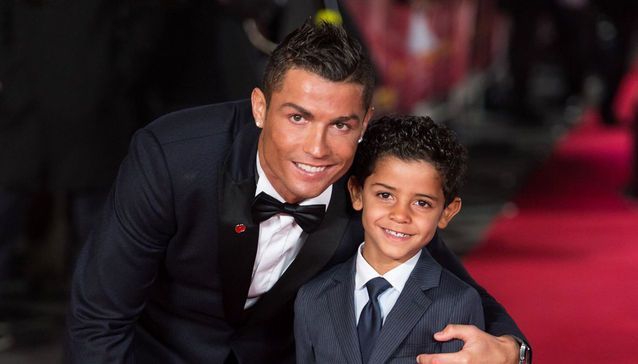 What's the story?
Portuguese ace Cristiano Ronaldo has taken to social media to share a video of his son scoring two brilliant goals for Juventus' youth side.
In case you didn't know…
After the former Real Madrid man moved away from the Liga giants to join Italian side Juventus, Ronaldo's eight-year-old son also joined the club's youth team.
The youngster has been doing well for himself in Italy as he netted four times on his Juventus debut in a 5-1 win over Lucento counterparts in September, scoring twice in each half.
Speaking of his son's football career, Ronaldo once said, "I hope that Cris, my son, can be like his dad. He says he is going to be better (than me), but I think it's difficult."
"I am very happy to have scored, for him too. He is playing for Juventus and adapting really well, it has been easier for him than for me."
Speaking during his unveiling as DAZN's Global Ambassador, Ronaldo said, "He's very competitive, like me when I was young, and he doesn't like to lose."
"He will be like me I am sure, 100 per cent. I hope that with my experience with my motivation, my goals, I can teach him some stuff, but you know he is going to be whatever he wants."
"I'm always going to support him, but of course I want Cristiano to be a football player because I think he has that drive."
"He has a good body, he's fast, he has skills, he can shoot, but as you know he's going to make his decision and he's so young, I'm not going to pressure him. But that is, of course, a dream, to see my boy a football player."
The heart of the matter
The Portuguese ace has taken to Twitter to share a video of his eight-year-old son's phenomenal goal for Juventus' youth side on Sunday.
In the video, Ronaldo's eldest son can be seen replicating his father's antics, showing off a backheel turn to lose his marker and closing in on the goalkeeper before shooting the ball in the bottom corner.
The youngster was also seen donning his father's iconic no.7 jersey.
What's next?
The eight-year-old appears to be adapting very well to life at Turin but whether he can follow in his father's footsteps and become a prominent name in football in the future remains to be seen