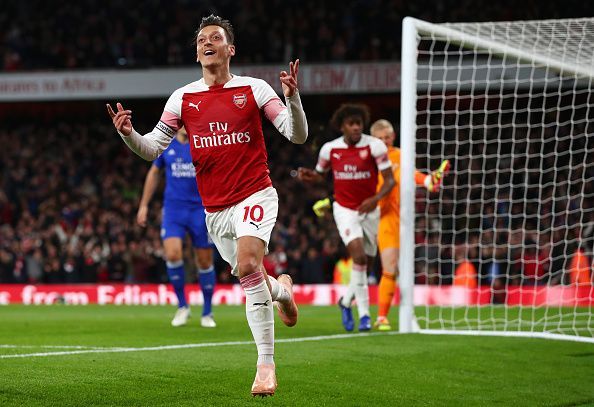 Sky Sports pundit Jamie Carragher is quite popular these days. We could say the same about Mesut Ozil too, particularly after his breathtaking performance against Leicester City on Monday.
At Emirates, Ozil scored a stunner of an opening goal, created the second with his unmatched passing and immaculate vision and registered an assist for the third, once again on the back of an awe-inspiring series of great footballing action.
Arsenal fans were on cloud nine as they saw their main man and captain on the night stepping up to the task like only he can. Ozil, who has been criticized a lot recently for going missing in games has shot back at his critics with his performance against the Foxes.
On Monday Night Football, via Football London, Carragher said,
"He's the big name player, he's signed a huge contract," Carragher said on Monday Night Football.
"I think early in Emery's reign he brought him off at Chelsea, he wasn't happy and we were critical of him after the game.
"It was looking early on in the season that Emery was not sure. This manager is not afraid to leave out the big name. Ozil gets the big bucks so you want the big performances and that was a huge performance.
"I know there's Arsenal fans who think people like us have something against Mesut Ozil. It's not that, we want to see this. That is unbelievable. You want to see more of that, he's a World Cup winner."
Speaking to the Daily Mail Column, Carragher has come out and said that Ozil still has a long way to go if he is to be considered as one of the greats or be considered to be in the same bracket as Dennis Bergkamp.
"You always wondered when he came to Arsenal could he be that Bergkamp figure. That signing of Bergkamp revolutionised the club and took them to titles,"
"I wouldn't say it's his fault but I thought he could be that player that takes Arsenal to that next level of the title, winning the Champions League. It hasn't quite happened really but there's no doubt at the end of his Arsenal career there'll be a highlights video of goals and assists that will take your breath away."
He then proceeded to say what Ozil has to do in order to be immortalized in football folklore,
"Bergkamp is immortalised in bronze outside the Emirates Stadium because, aside from all the medals he won, he helped bring fantasy football to north London. His style had substance."
"If he [Ozil] inspires them to their first Premier League title since 2004, it would make him a legend in the eyes of Arsenal fans, until then, the Bergkamp comparisons must wait. Ozil must take Arsenal to the title if he wants to get there."