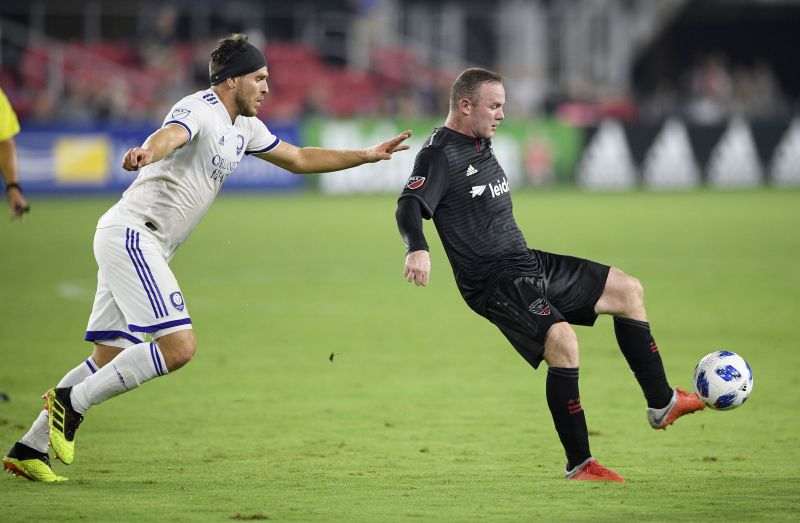 WASHINGTON (AP) — All of the doubters were wrong. About what Wayne Rooney could still do. About, more specifically, what he could do for D.C. United.
Now the English striker and his American club are headed to the Major League Soccer playoffs.
When reports first linked the 32-year-old Rooney to the team in the U.S. capital, the two parties were separated by more than the Atlantic Ocean. Rooney was past his peak as a superstar for his nation and Manchester United, even if he still was a capable scorer in the Premier League. D.C. United, meanwhile, stood last in MLS, a league that is a few rungs in quality below Europe's best.
Four months after the deal was done, and with the start of the MLS knockout round approaching next week, there is more common ground than anyone thought. That includes reveling in defying critics of the deal, with Rooney leading his new club to one of the most dramatic turnarounds in league history.
"Wayne's influence on this team has been huge — so many factors, so many ways," DCU coach Ben Olsen said. "But he's not the only one that had something to prove around here. I've got something to prove. The team that was here last year has got something to prove. Everybody's here to kind of create their own career."
Rooney's arrival has coincided with a 12-4-3 run, including a five-game winning streak — and nine-game unbeaten streak — heading into Sunday's regular-season finale at Chicago. This from a team that was 2-7-5 before his MLS debut.
He leads United with 12 goals after scoring twice in a 3-1 victory over New York City FC last weekend that clinched a playoff berth. That total includes five of D.C.'s last seven goals, including three last week to help him earn MLS Player of the Week honors.
Rooney also has seven assists, meaning he's played a role in 19 goals over the 19 games played by United since he joined.
Rooney has produced brilliance reminiscent of his years winning five Premier League titles with Manchester United.
His most famous D.C. moment? "The Tackle," in which Rooney raced halfway across the field to take the ball from an opponent, then charged back the other way and picked out Luciano Acosta to assist on a stoppage-time, game-winning headed goal in a 3-2 victory over Orlando in August.
"You look up to him a lot with his effort and how he plays," Acosta said through an interpreter. "You see it on the field. He knows where to be. He knows where I am. He knows where all the players are. He knows how to play. And we can all work off of that."
There clearly was marketing potential in the move to the United States: MLS said Rooney's United No. 9 is its fourth-highest-selling jersey in 2018, even though he only joined the league after the season had started.
But Rooney's play has silenced suggestions that his move to America from boyhood club Everton — where he returned for a frustrating 2017-18 campaign — was only about the money.
"I've never been a player who is going to just play and knock around," said Rooney, who signed a 2½-year deal in June reportedly worth $13 million, with a team option for 2021. "I'm a player who cares. I care about what I do. I'm a proud person."
His greatest accomplishment might very well be how he's sparked his teammates.
Acosta, a 24-year-old Argentine compared by Rooney to former Manchester United teammate Carlos Tevez, has 10 goals and is tied for the league lead with 17 assists in his third MLS season. Yamil Asad could make D.C. United the first MLS team with four double-digit scorers if he collects his 10th goal Sunday.
As it is, the team's 60 goals are its most since scoring 65 in 1999 en route to one of its four MLS Cups.
There's still a long way to go to pick up No. 5. Still, Rooney has allowed D.C. United to go from bottom-of-the-league to playoff participant.
"Before, we had always been missing something," midfielder Paul Arriola said. "Maybe identity, style of play, maybe a certain player. And then Wayne comes in, and everything worked all together."