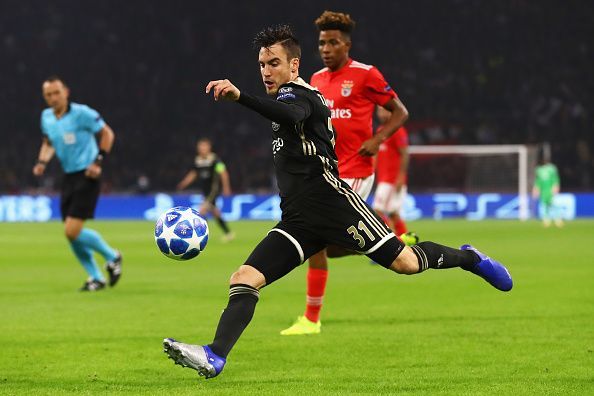 What's the story?
According to Mirror, the Gunners are planning to find a permanent solution to the ongoing left-back situation at the Emirates. With the likes of Sead Kolasinac and Nacho Monreal being injured, problems could be getting worse for the gunners as most of their players are injured. In such circumstances, Unai Emery has found a player who can be a 'fix' to all the turmoil that the full-backs are having.
Ajax and Argentina star, Nicolas Tagliafico has been on the radar of Unai Emery and reports suggest that he could be moving to the Emirates.
In case you didn't know…
Tagliafico was one of the main players in the starting 11 of the Argentine football team at the world cup and he did attract a lot of attention from the likes of Borussia Dortmund and AS Monaco. An extremely skilled player, he can be an extremely important inclusion for Emery.
In addition, Stephane Lichsteiner has taken the mantle of the left-back position, but cannot be relied upon as a long-term solution.
The heart of the matter
Despite having an exceptional league run, Arsenal faces a lot of injury problems in every position. Unai Emery's style of play involves his fullbacks, and his left-back situation needs to be fixed. Tagliafico is the man to go for, as the reports have suggested.
Rumor probability: 7/10
There is no denying that this particular position lies in jeopardy and that the Gunners do require someone who can save the day, hence the Argentine has been linked with a move to Arsenal.
But given the fact that there are more accomplished left-backs who fare way better than he can change Emery's choice. According to the Mirror, though, it looks like the deal could actually be taking place, as at this moment, Arsenal don't seem to have much choice.
Video
What's next?
Arsenal has a long Europa League campaign, and their ongoing run in the Premier League can save them a spot in the top 4. With the January transfer window being the next station, Emery can grab a few signatures