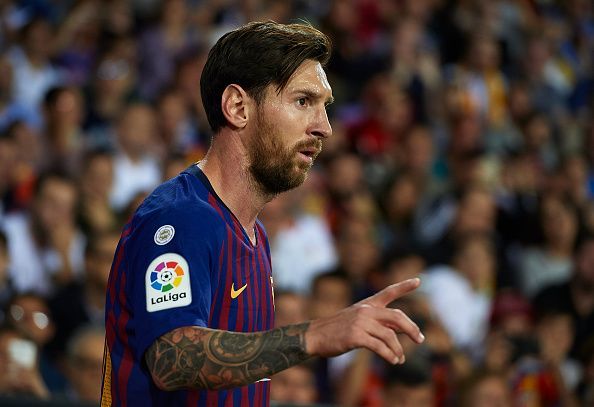 What's the rumour?
Barcelona stars, including Lionel Messi and Gerard Pique, are reportedly keen on seeing Manchester United man Paul Pogba move to Camp Nou.
In case you didn't know…
Pogba continues to be linked with the Liga giants following his intense feud with United manager Jose Mourinho.
Pogba famously responded to the Portuguese manager's criticism of the team after United's draw against Wolverhampton Wanderers, saying that he wants the team to be allowed to play more attacking football, especially at their home ground, Old Trafford.
When asked why the team isn't attacking more, he said: "I can't tell you because I'm a player. It's not me. I'm not the manager, I cannot say that, but obviously we should show more options of playing."
The feud escalated, and soon, rumors of the Frenchman being unhappy at United started doing the rounds.
Pogba himself has been far from his best for United, even continuing his dismal display during the international break for France.
The heart of the matter
According to the Daily Mail, a few of the Barcelona players are keen on having the midfielder move to Camp Nou. However, the club's scouts remain split on the French midfielder.
The report also claims that manager Ernesto Valverde is keen on sanctioning the deal.
Pogba's friends and international teammates Samuel Umtiti and Ousmane Dembele are among the French players who are already playing for Barcelona.
There are also doubts regarding the Spanish club's capability to finalise the deal financially, given that Manchester United are unlikely to sell Pogba for a fee less than the £89m they committed to bringing the midfielder to Old Trafford.
Rumor rating: 5/10
The Sun are not the most reliable of sources. While Pogba might still be keen on a move to Barcelona, it does not look like it's going to happen anytime soon regardless of his relationship with his manager.
Video
What's next?
Given that Pogba's relationship with Mourinho is going from bad to worse, it makes sense that the Frenchman would be looking for a fresh start somewhere else. While a move in January is extremely unlikely, Barcelona could look to finalise the deal in the next summer window.