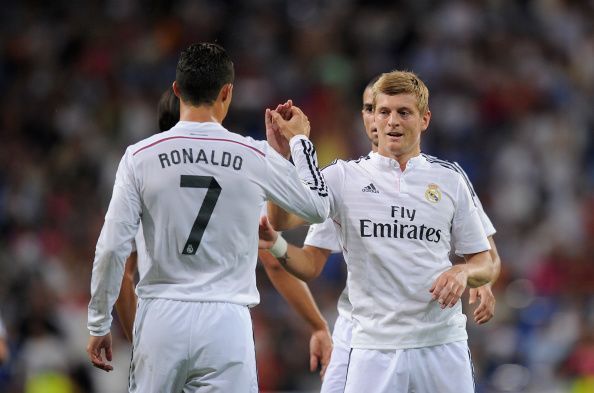 What's the story?
German midfielder, Toni Kroos has expressed that while Cristiano Ronaldo's exit from Real Madrid has changed things at the club, the past must be forgotten in order to move on as a team.
In case you didn't know…
Ronaldo's summer move to Italian giants Juventus continues to be in focus months later. The Portuguese ace left Real Madrid to join the Serie A side in a £105m deal over the summer.
The departure of their star man has left the Santiago Bernabeu with a big void to fill but Real Madrid have been far from the European champions we know.
The LaLiga giants now sit four points behind rivals Barcelona, at seventh place in the league table following a series of poor results which even prompted rumours of manager Julen Lopetegui's sack.
Real Madrid turned their fortunes around in their Champions League clash on Tuesday after they beat Viktoria Plzen 2-1.
The heart of the matter
Following the victory, Kroos spoke to reporters about life in Real Madrid after Cristiano Ronaldo.
The midfielder said, "Of course it's changed a little bit, but I think this is what the club wanted with this decision. We started well into the season and had games where we scored three or four goals and nobody was missing him (Ronaldo)."
"It makes no sense to speak about players that aren't here. He's an unbelievable player, maybe one of the most important in history. That's nothing that helps us now. We have to do this without him, that's the only way, and we've showed we can do it. Of course, we missed some goals in the last games and today we could have easily won 4-1, 5-1 or 5-2," he added.
"At the moment it's a little bit difficult for us to score, but the only way to improve is to continue working and the ball will go in," said Kroos.
What's next?
Real Madrid are all set to face Barcelona on Sunday in an El Clasico game that will not feature Cristiano Ronaldo or Lionel Messi.