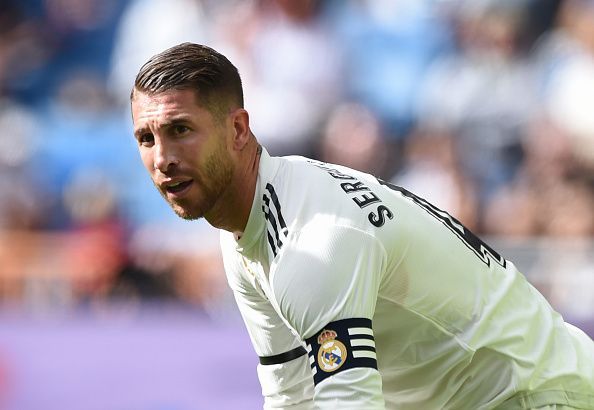 Tension is rife in the Spanish capital, and it's beginning to show on the training ground. Following their record-breaking goal drought, and their worst start to the season since 2001-02, Real Madrid captain Sergio Ramos was caught on camera kicking out twice at young teammate Sergio Reguilon.
Reguilon threw himself across to prevent the La Roja captain from making a pass, and happened to knock him in the face in the process. Vexed with the challenge, Ramos lost his cool and tried to kick the ball at the youngster from only a few feet away.
Despite the training staff calling the session to an end, the centre-back still appeared to be incensed as he kicked the ball yet again. It finally required some intervention from fellow compatriot Luka Modric to restore parity between the Madrid duo.
This however was not the first pair to see tempers flare off the field. There have been innumerable instances of training ground bust-ups. Here we look at the 5 most infamous high-profile spats.
---
#5 Mario Balotelli vs Roberto Mancini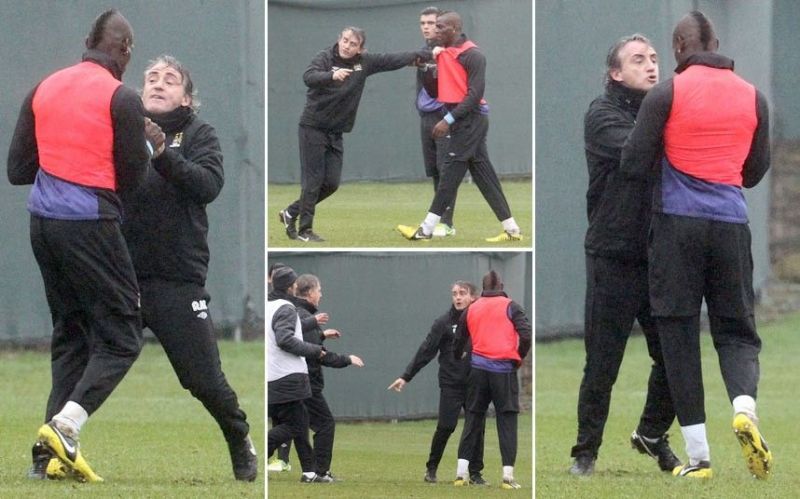 Super Mario is one controversial figure. This confrontation dates back to 2013, during the pair's stint at the Etihad, just a month prior to the sale of the Italian ace to AC Milan.
The Manchester City duo came to blows at the end of training, following a rash challenge from the Italian striker on his City compatriot Gael Clichy who had just returned from injury.
On witnessing this rash challenge, the infuriated manager ordered that Mario get off the field. When he refused to obey his boss's order, Mancini decided to take charge. He stormed onto the field and tried to drag the front-man away from play. Balotelli did not take this well, which resulted in an awkward push for shove kind of scenario.
#4 Neymar vs Nelson Semedo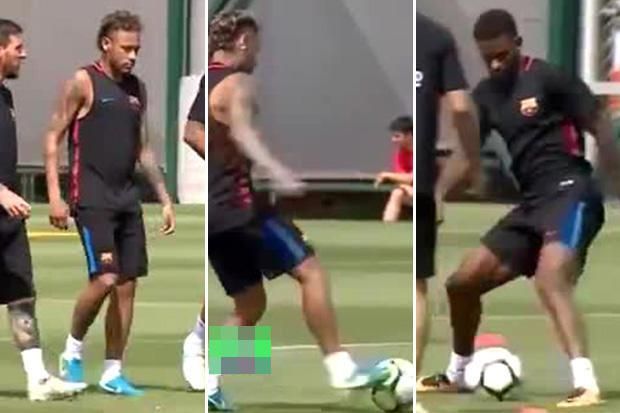 Just recruited from Benfica, the young Portuguese full-back perhaps had the worst first training session for a footballer in all of history. During the pre-season tour in USA prior to the 2017-18 season, Semedo clashed with the rumoured to leave Neymar Jr.
In the practice session, Semedo came close to a physical duel with the PSG bound attacker, with Neymar taking exception after being grappled when he found the target.
The heated exchange of words was eventually broken up by their colleagues Sergio Busquets and Samuel Umtiti. However it did end with Barca's Samba striker angrily taking off his bib, belting the ball away in frustration, and storming off the training ground – all of this just a few days before making a move to the Parc des Princes.
Here's a video of the altercation from 2017.
#3 Andy Carroll vs Steven Taylor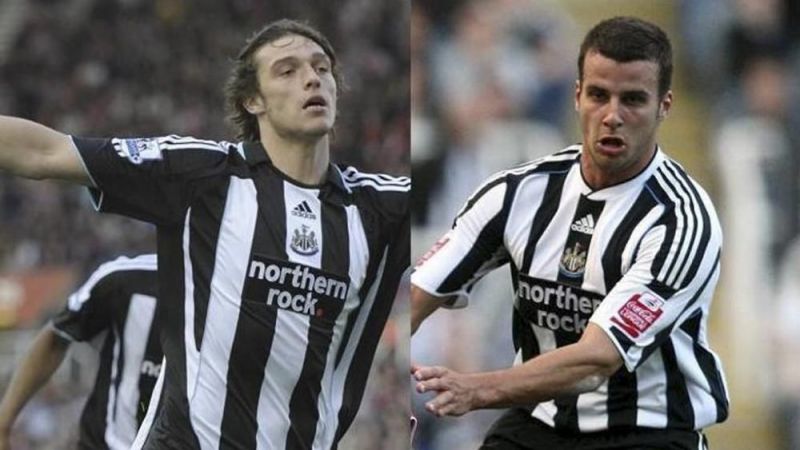 Andy Carroll has had his fair share of controversies. In 2010, the North East native was awaiting trial over an alleged assault in a London nightclub. Despite this, the striker was able to shrug off his off-field troubles and was on course to become the leading goal-scorer for his club that season.
However when tempers flared at St. James's Park sometime around March 2010, it threatened to bring his goal-scoring run to an end.
The brawl happened when Andy Carroll discovered that Steven Taylor had been texting his ex-girlfriend for quite some time. Angered by this, he punched his fellow countryman on the jaw, forcing him out of action for the rest of the season.
When the news made it's way to the St. James's faithful, they turned their backs on Taylor and continued to cheer on their 19 goal scoring hero. The broken jaw only stalled the England U-21 captain's injury-plagued career, and destroyed his hopes of representing his nation yet again.
#2 Zlatan Ibrahimovic vs Oguchi Onyewu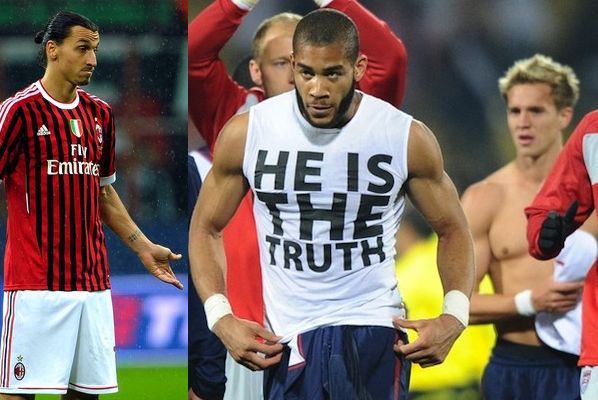 There is no list of ours that Zlatan does not make it to, and this is perhaps the most iconic fights of the century.
With a black-belt in Taekwondo, neither his acrobatic goals nor his kicks directed at his teammates come as a surprise. The explosive character even threatened to break Rafael van der Vaart's legs at Ajax.
In his autobiography, Ibrahimovic revealed the training ground punch-up with his then AC Milan muscular teammate Oguchi Onyewu. In his own words 'Oguchi resembled a boxer with his built physique'. The Sweden ace claimed that the pair wanted to destroy each other, saying,
"I'm not talking about a small row. It was like life and death."
Fortunately however, it was 'life' for both of them when they were separated, although it was later discovered that Ibrahimovic actually suffered a broken rib in the scuffle.
Documenting it in his book, the former Manchester United striker wrote,
"I head-butted him, and we flew at each other. We wanted to tear each other limb from limb. It was brutal. We were rolling around, punching and kneeing each other. We were crazy and furious — it was like life and death.  I was stopped by my team-mates, and I suppose that was a good thing. It could have turned out nasty. All the time, I was thinking: 'S***, my chest hurts,' so we had it checked out. I'd broken a rib in the fight."
'It was not the first time I'd had a dispute with a team-mate."
#1 Joey Barton vs Ousmane Dabo

Just another one of his misdemeanors

If there was a list that Joey Barton was going to break into, it would have to be the list of feuds. The former Newcastle player epitomises controversy. His most infamous bust-up came during his time at the Etihad in 2007.

Joey Barton was provoked by a rather friendly push on the shoulder from an intimidated Ousmane Dabo. Enraged, he left the French International unconscious on the ground after battering him with all his might.

Hospitalised, it was later discovered that Dabo suffering a detached retina. The City player later filed an official complaint that resulted in a 4 month prison sentence.

In addition he was fined £2000 in addition to the prison sentence to go with the £25000 fine from the FA. The controversy-ridden footballer was never allowed to play for City again, and made a move to Newcastle in the summer.