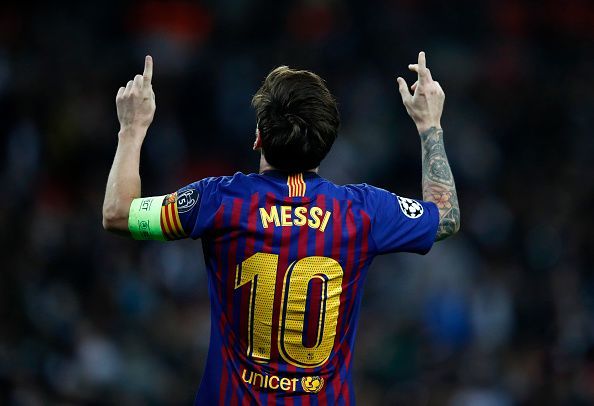 The second day of the 2018/2019 UEFA Champions League Matchday 2 took place on Wednesday, and as expected, it served us plenty of thrilling matches and lots of goals.
Some clubs such as Barcelona and Dortmund took one step further towards qualifying for the second round with victories taking them to six points, while Tottenham suffered their second defeat to leave their qualification hopes hanging by the thread.
Following up from Dzeko and Dybala's hat-tricks the day before, there were also brilliant individual displays, with Lionel Messi and Antoine Griezmann the picks of the bunch, as the pair scored a brace and registered an assist each.
Just like the previous matchday, there were also many observations made from this round of fixtures. Here are 5 things we learned from matchday 2b of the 2018/2019 Champions League group stage.
---
#5 Lionel Messi is in Beast mode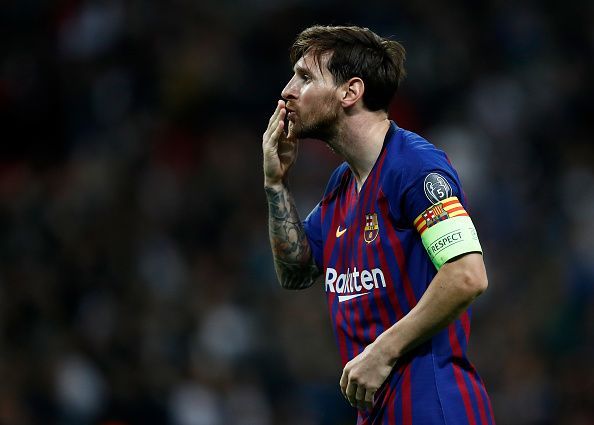 Messi is widely considered by many to be the greatest player in the history of football, and rightly so, as he alongside Cristiano Ronaldo has changed the footballing landscape with their otherworldly performances over the last decade.
The Argentine's numbers are well known, so there is no need repeating them, and Barcelona have benefitted immensely from having the 31-year-old within their ranks, as the Blaugrana have won all the trophies possible since their record goalscorer donned their colours.
However, Barcelona has struggled in Europe in recent seasons, failing to advance beyond the quarter-finals since 2016, and watching on haplessly as eternal rivals Real Madrid won each of those tournaments.
A large contributing factor to their struggles can be traced to Lionel Messi, as he has also failed to impact on the biggest stage of European club football.
Messi has not scored a Champions League quarter-final goal since 2013, a staggering run of 10 matches which is almost unbelievable if you consider his goalscoring ratios in that time.
It, therefore, comes as no surprise that since 2013, Barcelona has managed to make it beyond the last eight just once, in its treble-winning campaign of 2015, falling at that stage on the other four occasions, as a lot of their success can be traced to Messi's impact.
Barcelona has dominated Spain in recent years, winning seven league titles since 2008, and triumphing in the Copa Del Rey on each of the last four occasions, so it is, therefore, no surprise that most of their attention would be on conquering Europe once more.
Messi has begun this campaign in the best way possible, starting off with a hat-trick against PSV on the opening day, and he put up another stunning display against Tottenham at Wembley to condemn Spurs to a 4-2 defeat.
He had a hand in the opening two goals, and hit the post twice, proving unplayable throughout the match before getting the brace his performance on the night truly deserved.
Barcelona would be turning to Lionel Messi to lead them to the promised land of European glory, and on evidence of his performance against Tottenham, he is on fire.
#4 Mo Salah would struggle to reach the heights of last season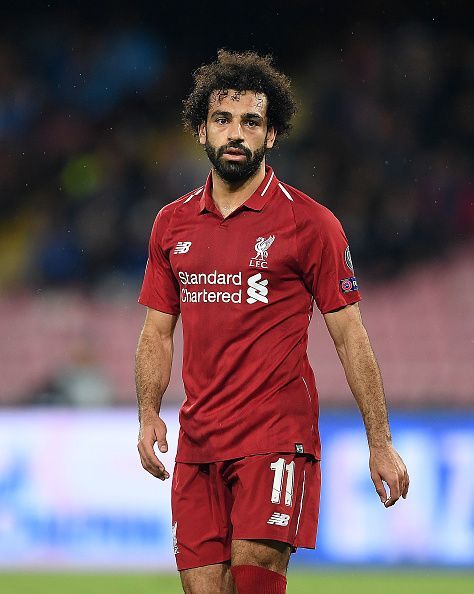 Salah had one of the most memorable debut seasons in history, as he scored 44 goals in all competitions and broke a plethora of records to help Liverpool to runners-up spot in the UCL and 4th place in the league.
His form also won him personal accolades, as he was deservedly named PFA and PWA Player of the Year, in addition to making it to the final three for both the UEFA and FIFA Best Player awards.
Mo Salah's name was bandied about as one of the stars of the future and among those to inherit Messi and Ronaldo's throne once the pair departs the scene.
However, this season, the stark realities of being at the apex of world football has begun to dawn on the Egyptian. He has struggled to impact games in the way he did before, and has just three goals in 10 matches in all competitions this season, whereas this time last year, he had seven.
There is a lot of expectation on the shoulders of Salah to retain his performance levels and show that he is not a one season wonder, and the 26-year-old seems to be struggling under that pressure, seemingly trying too hard to prove his worth.
Ronaldo and Messi have maintained their elite levels for over a decade, and if Salah is to even attempt sitting on their throne, then struggling to maintain his for two shouldn't be a problem. However, from indications so far, he might struggle to live up to expectations.
#3 Watch out for Atletico Madrid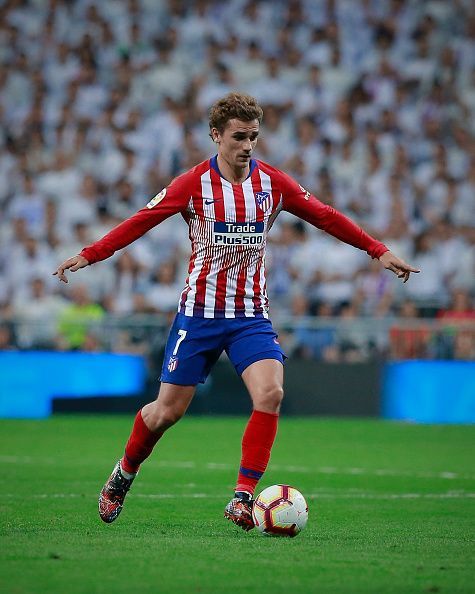 Atleti is one of the rank outsiders, coming in right behind the genuine favorites to be crowned European Champions come May next year.
Los Rojiblancos have seen an immense trajectory in stature over the last few years, growing from mid-table La Liga team to one of the genuine heavyweights since Diego Simeone took over at the club in 2011.
They have made it to two Champions League finals in the last five years, losing both by narrow margins to city rivals Real Madrid in 2014 and 2016, and are the current holders of the UEFA Super Cup and Europa League titles.
Atletico Madrid would seek to win the Champions League for the first time having come so close in recent years, and the fact that the final is being played at their home stadium would serve as extra motivation for Simeone's men.
They have begun their quest for European conquest in their normal solid fashion, posting a hard-fought 2-1 victory away to Monaco on matchday one, before putting in a routine 3-1 victory over Club Brugge at home.
Atletico Madrid has gone about their business under the radar, and despite not grabbing the headlines like most of the more established European superpowers, expect to see them in with a shout during the home run of the Champions League.
#2 Group C would live up to its billing as the group of death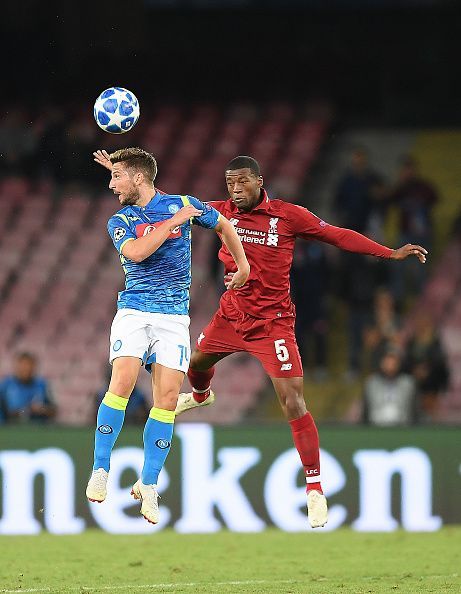 Liverpool's placement in pot 3 during the Champions League draw meant that they stood a high chance of being placed in a nightmare group, as they had most of the best clubs in Europe placed ahead of them, and as it turned out, those fears were confirmed as The Reds were drawn alongside French champions PSG as well as last season's Serie A runners-up Napoli and Serbian champions Crvena Zvezda.
The quality between the top three teams in the group is so close that the group was rightly classified as the 'group of death', as any of the trio could top the group, guaranteeing that one of the best teams in Europe gets eliminated at the group stages.
Matchday one served us a real thriller as Liverpool edged out PSG 3-2 at Anfield while Napoli disappointingly drew 0-0 in Serbia, but it was on matchday two that the group turned on its head.
Liverpool put up one of their worst performances under Jurgen Klopp to lose 1-0 in Naples with the scoreline flattering them, while PSG trounced Crvena 6-1 in Paris.
Napoli is the only unbeaten team in the group and currently, sits atop the standings with four points while PSG and Liverpool are on three each.
The Partenopei would play PSG in a doubleheader next which would ultimately decide each other's fate, while Liverpool faces the Serbian team.
A lot of people expected Group C to be one of the tightest in the competition owing to the quality of teams involved, and after two matches, the group hasn't disappointed.
#1 Harry Kane deserves much better than Tottenham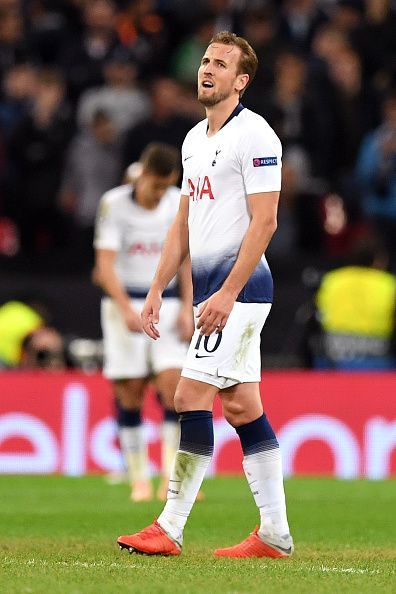 Harry Kane has grown in leaps and bounds since establishing himself in the Spurs main team in 2014, progressing from an untrusted multiple loanee into becoming arguably the best center-forward in the world at the moment.
His goal ratio at Tottenham in the last four years have been exceptional, and he remarkably outscored both Ronaldo and Messi in 2017, winning the EPL Golden Boot in 2016 and 2017.
Despite being linked to Europe's big clubs, the 25-year-old showed incredible loyalty to his boyhood club by signing a contract extension, and though financially rewarding, it is hard to see that as the right move career-wise.
For a man of his immense talents, Kane is yet to win a major professional title, a fact which is made more disheartening when you consider that players of inferior quality such as Morata and Giroud have already tasted multiple successes just by virtue of playing for bigger clubs who contest for the biggest trophies.
After two matches so far in the Champions League, Tottenham has zero points, losing to Inter Milan on Matchday 1 having led for most of the match, and capitulating to Barcelona in the second match despite Kane's best efforts to keep them in contention.
Tottenham have shown in the previous campaigns that they lack the wherewithal to genuinely contest for major titles, and unfortunately, being nearly competitive is not good enough for a player of Harry Kane's abilities.