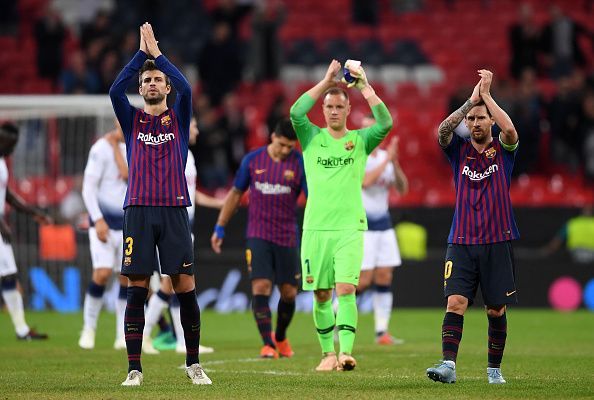 We are barely two months into the 2018-19 season, and so far it's been anything but predictable. Some of the European Giants, namely Bayern Munich, Real Madrid, FC Barcelona, and Manchester United have had average start to the season and are struggling to get back to their usual winning ways.
FC Barcelona is second in the table, 1 point behind the table toppers Sevilla and Real Madrid are fourth in the table, 2 points behind the League Leaders. While this may sound decent to a Football novice, the fact that Barcelona and Real Madrid have dropped 9 points and 10 points respectively so early in the season should be a concern for the fans of these clubs.
FC Barcelona started the season in their usual manner, winning their first five matches which included a magnificent 8-2 victory against Huesca and an impressive 4-0 victory against PSV in UEFA Champions League. In the next five matches, Barcelona managed only one victory, a Lionel Messi masterclass against Tottenham Hotspurs in the Champions League.
In the league, the Catalan Giants are winless in the last four matches, drawing 3 and losing one. Barcelona fans are a demanding lot and while Ernesto Valverde's job is relatively secure at the moment, he needs to improve the results to keep it that way.
Though the season is still in its infancy, it's a good time to look at the best and worst Barcelona players so far:
---
Worst: #3 Nelson Semedo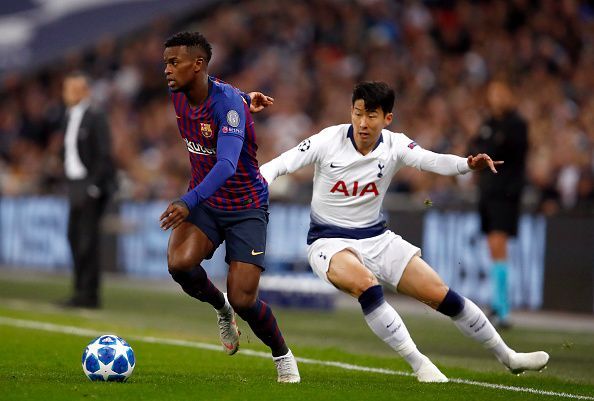 Well, it was never going to be easy to replace Dani Alves. Semedo was roped in last season with the hope that he will be able to fill in Dani's shoes. While the Portuguese took his time to adapt to the life at Camp Nou, Sergi Roberto, a converted right-back went about his duties quietly. Though Semedo found playing time hard to come by last season, he impressed in the limited minutes he got with his pace and work rate.
With Sergi Roberto getting injured at the beginning of the season, Semedo was handed over the starting right-back role and much was expected of him. But so far, he has failed to live up to the expectations. Make no mistake, Semedo's work rate and commitment can never be questioned. But his indecision while going forward and his poor final ball has hurt Barcelona on more than one occasion.
Semedo's defensive positioning too has been questionable at times and he has been dispossessed 1.2 times/match – a very high number for a right back. While it's too early to write someone as talented as Semedo off, his performances surely need to improve for him to be a regular started at Camp Nou.
Worst: #2 Luis Suarez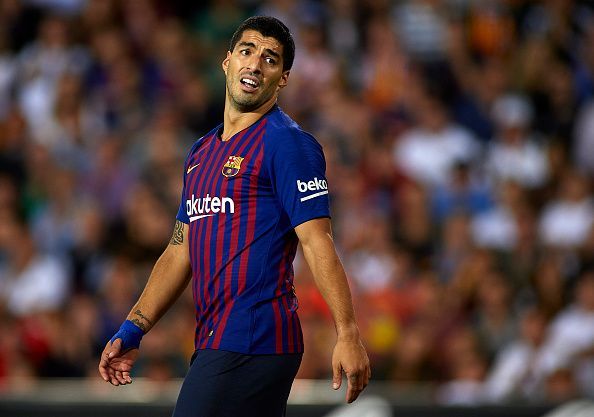 Without a doubt, Luis Suarez is a world class striker and is one of the best strikers in the modern game. His off the ball movement and tireless running are so crucial in Barcelona's system. Having said that, the Uruguayan's primary responsibility as a striker is to score goals and it's exactly for the aforementioned reason that Suarez is on this list.
Suarez has scored only 3 goals in 11 matches so far and looks like a player short on confidence. Suarez has attempted 32 shots this season and a conversion rate of 9% is surely not befitting a striker of his calibre.
Barcelona needs Suarez to start firing on all cylinders if they harbour any hopes of winning the Champions League. The fact that Barcelona was ready to let Paco Alcacer leave on loan, shows the trust the management had in Luis Suarez, and its time he repaid their trust. 
Worst: #1 Gerard Pique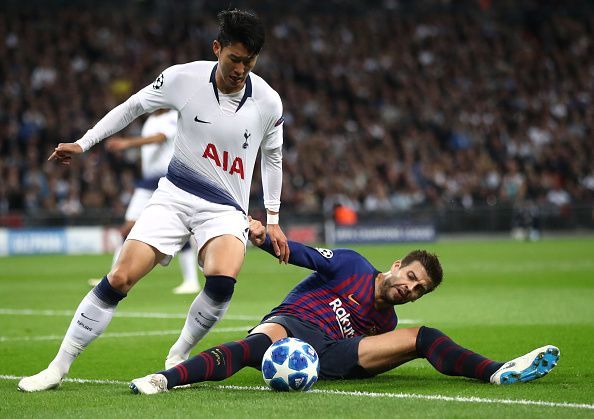 Gerard Pique has long been a leader in the Barcelona dressing room and is the senior most defender in the team. Much was expected of him this season, but alas, Pique's performances surely have been lacklustre. The Spaniard started the season brightly alongside Samuel Umtiti and was solid in the first few matches. Pique even got on the scoresheet twice including the equalizer against Girona.
However, the match against Leganes was one to forget for Pique as he was at fault for both the goals Barcelona conceded. It went downhill from there on for Pique, as Barcelona struggled for defensive stability – a feature which gifted them the LaLiga title last season.
With Umtiti and Thomas Vermaelen injured, the onus is now on Pique to lead the Barcelona backline along with the new signing, Clement Lenglet. Valverde would be counting on Pique and co. to improve their performances as Barcelona brace themselves for a tough round of fixtures.
Best: #3 Jordi Alba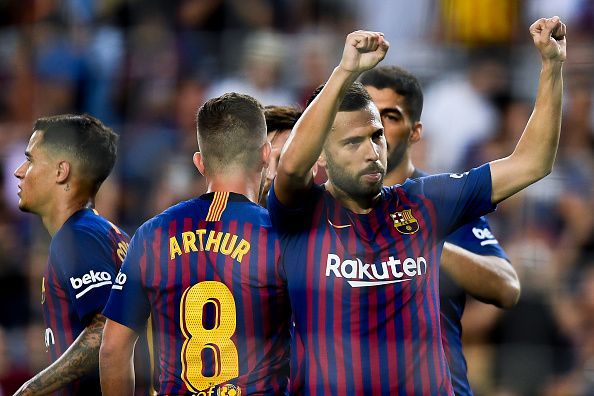 If there is one player who benefitted from Neymar's controversial move from Barcelona to Paris Saint Germain, it is Jordi Alba. Jordi Alba now has Barca's left wing almost completely for himself and has benefitted from being at the receiving end of Lionel Messi's delightful diagonal balls. Alba shares an almost telepathic connection with Messi and the pair's link-up play has been on display this season as well.
Jordi Alba has scored 1 goal and has provided 4 assists in 11 matches so far, with the highlight being 3 assists in the Champions League match against Tottenham Hotspurs. 'El Ferrari' has been solid in his defensive duties as well, as he makes up for his apparent lack of positional awareness with his pace and technique.
Alba averages 1.4 tackles and 0.9 interceptions per match to go with 1.3 key passes per match, handling both his attacking and defensive duties efficiently.
Best: #2 Philippe Coutinho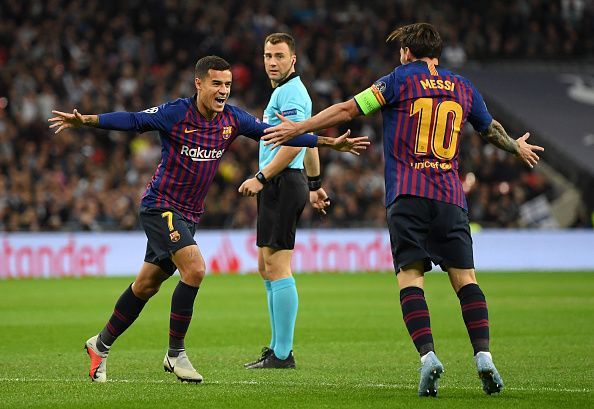 Philippe Coutinho has been Barcelona's best signing in recent times. The Brazilian, who arrived from Liverpool in January 2018 under controversial circumstances took to La Liga like fish to water. Coutinho wasted no time in getting adapted to Barcelona's playing style and was comfortable operating on the left side of the attack or on the middle of the park as and when needed.
The diminutive playmaker adds a bit of dynamism to Barcelona's build-up play and his shots from outside the box have been something that Barcelona lacked for a long time. Philippe Coutinho has scored 3 goals and has assisted 3 more in 11 matches this season and has been instrumental in Barcelona's build up play.
He is now an automatic starter and has started in the last 4 matches for Barcelona. Coutinho has been excellent this season and could have been ranked as the best Barcelona player, if not for you-know-who.
Best: #1 Lionel Messi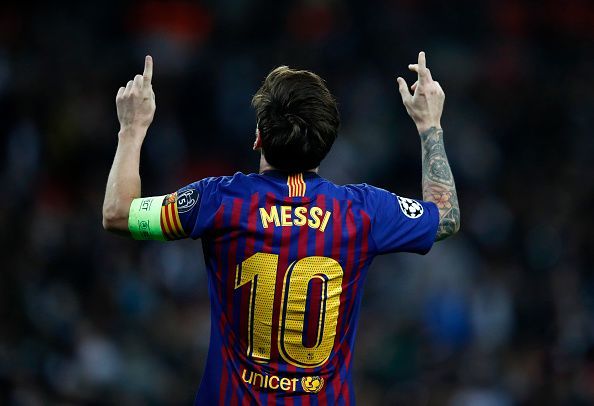 Was there ever any doubt? One of the Greatest Players of All-Time, five times Balon D'Or Winner, Lionel Andres Messi Cuccittini has been at it once again this season. With 11 goals and 4 assists in 11 matches so far, Messi has been exceptional for Barcelona and has dragged them to victory singlehandedly more than once this season.
Though Lionel Messi has been unable to prevent Barcelona's winless streak in La Liga, he has been lethal in European Champions League – scoring 5 goals in 2 matches. The Argentinian's performance against Tottenham Hotspurs, a match in which he scored 2 sent football pundits and fans into a frenzy.
Messi had promised the Camp Nou crowd that as captain, he and his team will do anything and everything to bring the Champions League back to Camp Nou after the disappointments in each of the last three seasons. If Messi's Champions League performances are anything to go by, he did mean what he said. It's beyond doubt that Barcelona depends a lot on Messi, not just to convert chances but to convert them as well. Barcelona enters a tough round of fixtures and Valverde would be hoping that his talisman continues his rich vein of form.