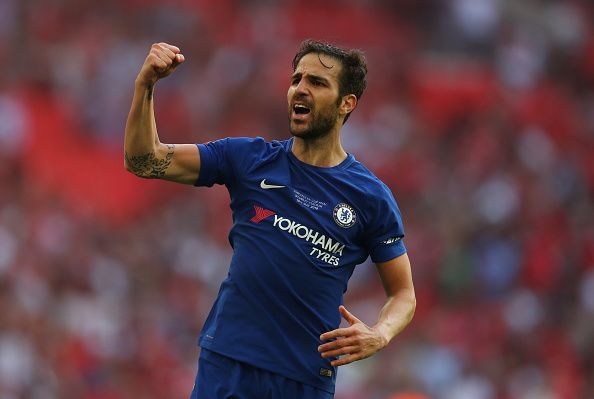 What's the story?
Chelsea midfielder Cesc Fabregas has become the fastest player to reach the milestone of 100 Premier League assists, earning himself a Guinness world record for the feat.
In case you didn't know…
After moving to Arsenal from Barcelona, Fabregas continually fed precise passes to world-class players like Thierry Henry and Robin van Persie, thereby establishing himself as one of the best play-makers in modern football. He continued his fine form for Chelsea as well for a couple of seasons but has fallen out of favour under new manager Maurizio Sarri.
The heart of the matter
The midfielder had to wait to finally be recognized for the feat this year as his 100th assist actually came during a game on December 31, 2016, when the Spaniard set up a brilliant goal for his Chelsea teammate Willian. The game saw Stoke City succumbing to a 4-2 defeat to the West London club. 
Fabregas achieved the feat in 293 games, 74 matches fewer than Manchester United legend Ryan Giggs who earned his 100th assist during his 367th appearance.
Speaking on the achievement, Fabregas said, "I'm not the fastest, I'm not the strongest, I'm not the most flexible, I don't jump high."
"But to achieve this record in my career is one of the proudest things in my job, because it is my job and I did it well," he added.
This is, however, not the first time that Fabregas has earned a world record.
The midfielder's first world record came when he appeared alongside former England and Liverpool midfielder Jamie Redknapp on the set of Sky 1's 'A League of Their Own' in July 2017. Fabregas became the joint record holder for the most volley passes in 30 seconds by a duo, with 15.
Video
What's next?
Fabregas continues his exploits at English club Chelsea, who are have gotten off to a sensational start under new boss Maurizio Sarri.
The London club presently stands in the second place in the Premier League table with 20 points, level with last season's champions Manchester City, and Liverpool.