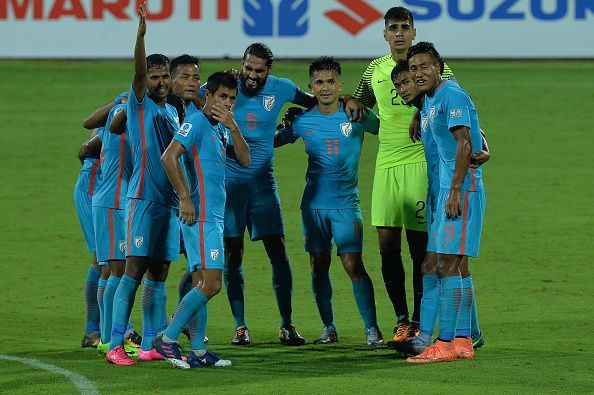 With the Intercontinental Cup coming up, India's latest FIFA rankings are sure to bring a joy to the faces of the football fans.
The Indian national football team will continue its run in the Top 100 for another month after the latest changes in FIFA Rankings. The Blue Tigers achieved a ranking of 97 in the last edition of the FIFA rankings, a position they will maintain for at least another month.
They qualified for the 2019 AFC Asian Cup after finishing on top of their third round group. Although India lost their final group match to Kyrgyzstan, qualification was confirmed before the match even began.
So far in 2018, India have only played one competitive match, against Kyrgyzstan. Their run prior to that match, however, resulted in a FIFA Ranking of 97. A ranking which they will now maintain for another month.
The Indian football team has had a great couple of years, qualifying for the AFC Asian Cup and even going on an unbeaten run of thirteen consecutive matches, a streak which was eventually broken by Kyrgyzstan. During the course of their unbeaten run, the Blue Tigers were able to defeat several higher ranked nations as well, such as Puerto Rico and Mauritius.
Up next for Chhetri and co. is a four-nation tournament called the Intercontinental Cup involving New Zealand, Kenya, and Chinese Taipei. The tournament will serve as a preparatory tour for the Indian side ahead of their return to the AFC Asian Cup. Matches against high ranked sides such as New Zealand and Kenya will provide some much-needed competition for the Indian football team.
India, for now, will reign at the 97th position. However, with the World Cup next month, much of the ranking structure is bound to change and surely that will affect India as well.
The Blue Tigers, however, will look to continue doing their jobs and maintain what has been a great run of results for them. The national side will also look to finish the four-nation tournament on a high, providing a much-needed boost before the AFC Asian Cup 2019.