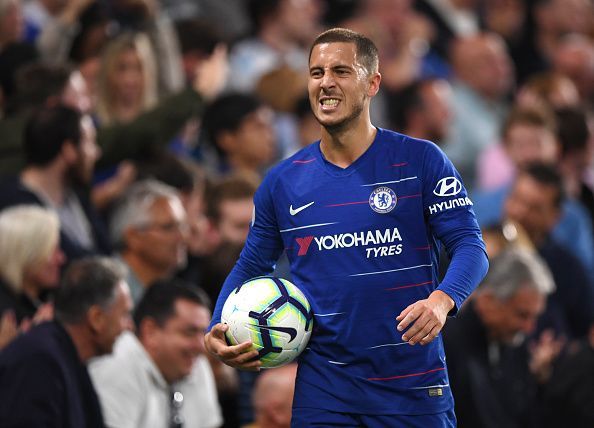 Eden Hazard has waxed lyrical about Real Madrid and has found it difficult to contain his adulation for the club and his excitement at the prospect of securing a dream move. Hazard is easily one of the best players in the world right now and has been in red-hot form for Chelsea this season.
After feeling bogged down by the defensive tactics of Antonio Conte last season, Hazard has found a fresh lease of life under new manager Maurizio Sarri who has got the West London outfit playing some of the most exciting football in all of Europe.
Hazard was widely tipped to secure a move to Real Madrid in the summer but things did not work out that way even though the Belgian international has never shied away from singing praises about Real Madrid or telling the press that it's his dream move.
Now, former Real Madrid president Ramon Calderon has come out and told beIN Sports that it's only a matter of time before Hazard leaves the 'slavery' at Chelsea.
"There's no point to having a player who wants to go, slavery was abolished a long time ago.
"It depends what Chelsea wants to do, then it's just a question of money between Chelsea and Madrid." 
The former Real Madrid president added,
"If a player insists on doing on what he is publicly saying it will be difficult for Chelsea to keep him and for Real Madrid it will be fantastic news."
Real Madrid are finding it hard to replace Cristiano Ronaldo's goals and are struggling in the LaLiga. As a result, they're on the lookout for a player who can help them restore the Ronaldo kind of quality to the frontline.