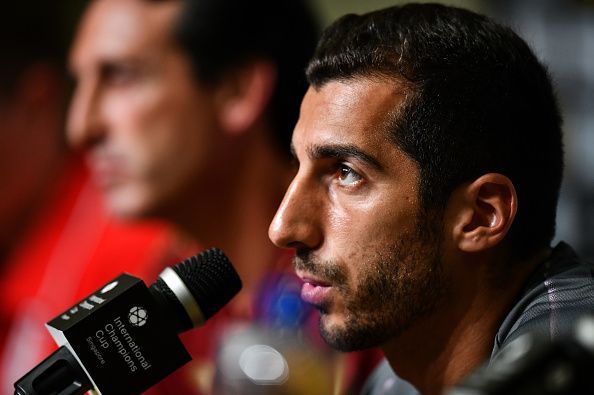 Henrikh Mkhitaryan was a big part of the last winter transfer window's grandest transfer saga which saw Alexis Sanchez packing up and moving out of Emirates to join the Red Devils with the Armenian headed the other way.
Mkhitaryan has, since, taken to life at Arsenal better than Alexis Sanchez has at Manchester United. Though his inconsistency is still a source of concern, Mkhitaryan has shown his quality on several occasions already. In the 2017-18 season, after joining Arsenal, Mkhitaryan scored 3 goals and set up 7 goals.
Meanwhile, the club itself has been going through a phase of transition. Arsene Wenger stepping down from the helm after 2 decades has triggered a spell of change at the club.
However, Mkhitaryan is happy with the way things are going and is grateful to have learnt from Wenger and is excited to be working with Unai Emery.
Speaking to Arsenal's website, Mkhitaryan said,
"It's always nice to be a part of the history at this club because Arsenal is a big club and everyone knows that being in this club means a lot.
"As well for myself, I'm very happy that I could have Arsene Wenger as a manager and I'm very happy to have Unai Emery as well, as manager."
Mkhitaryan goes on to reveal how he feels like he's living his dream and how he plans on making the best of the opportunities that come his way.
"I'm doing my best every day, every hour and every minute to become even stronger.
"I always had my dreams, I always had my ambitions and I always wanted to chase them. I wanted to fulfil them because it was very important to me and my family.
"I was working hard, I wasn't taking a day off and I was always working hard on myself. Even if I was good at one thing, I was always trying to improve it even more. I think that's it."
As Arsenal prepare to take part in the Europa League for a second consecutive year, he seems motivated in Arsenal's to conquest to get back to the glory days of old.
"I appreciate people that want to try and help Arsenal achieve more because I know Arsenal is a team that has to be playing in the Champions League and is a team that has to fight for trophies in England. What we're trying to do is to bring the Arsenal level back."