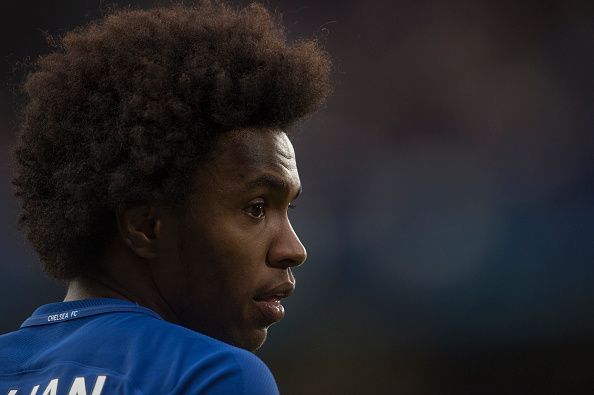 What's the rumour?
Barcelona has made an astonishing third bid of €72 million for Chelsea midfielder Willian. The Catalans have already had two bids of €56 million and €59 million rejected by the London club. However, it seems like the third bid is the charm as it comes much closer to Chelsea's €78.5 million valuation of the 29-year-old.
In case you didn't know…





The Brazilian has been linked with a move away from Stamford Bridge since the beginning of the transfer window. Voted as Chelsea's Player's Player of the Season last year, Willian has also been heavily linked with a move to Old Trafford. Former manager, Jose Mourinho rates the Brazilian very highly and would be extremely keen to sign the midfielder should rumours of Paul Pogba moving to Juventus prove true.
However, Manchester United are yet to make a rival bid or any formal approach for the midfielder. The Chelsea hierarchy is also not keen on selling to a direct Premier League rival and would prefer to offload Willian to a club abroad, possibly paving the way for his to move to La Liga.
The heart of the matter
Barcelona's latest offer has piqued the interest of Chelsea's board and a meeting is due to take place in London to work out the finer details of the bid. With Willian's contract due to expire in two years, this could be the last transfer window Chelsea could demand such a fee.




New Chelsea manager, Maurizio Sarri, would be keen to use any money from the Willian transfer to fund his moves for several identified targets including Gonzalo Higuain, Anthony Martial, and Daniele Rugani.
However, Chelsea has continually maintained that Willian is not for sale publically and will make a last-ditch attempt to keep the wantaway midfielder by offering him a new contract behind closed doors.
Rumour Probability: 8/10
This rumour has persisted all summer and it seems highly likely that Willian will step out in the blue and red of Barcelona next season.
Video
What's Next?
With Thiabous Courtois and Eden Hazard also heavily linked with moves to Spain, it seems highly unlikely that Chelsea will allow three core first-team players to all move so close to the start of the season.
Should the Blues accept Barcelona's offer of €72 million for Willian, it may put a stop to any potential move for Eden Hazard and throw a spanner in the works of Real Madrid's summer transfer plans. If this scenario comes to pass, Barcelona will be delighted to not only get their man but also hamper a rival in the process.