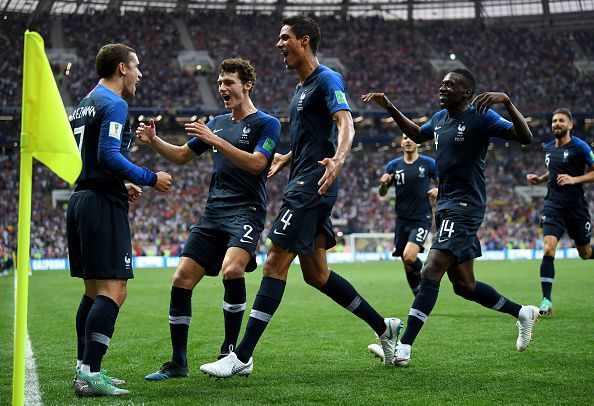 What's the story?
According to the French outlet, Le10Sport (via TheSun), Manchester City have reportedly joined the race for French versatile defender, Benjamin Pavard.
However, some reliable sources suggest that the Frenchmen has already been offered to LaLiga champions with a price tag of €31 million. The 22-year-old French prodigy currently plays for Bundesliga club, VfB Stuttgart.
Following his glorifying World Cup campaign, the versatile-defender has been under the radar of many top European elites including Bayern Munich, Juventus, and FC Barcelona.
However, Pep Guardiola's city or FC Barcelona is believed to be his ultimate destination.
In case you didn't know…
The French defender has impressed the world with his abilities during the World Cup 2018. Along with possessing excellent defensive abilities, his versatility in another superb quality which makes him the centre of attention.
The Frenchman can play as a centre-back, right-back and even as a defensive midfielder. He might be very useful for Pep Guardiola's side as he often chooses to play three or four defenders.
Pavard's stunning goal against Argentina in the WC was voted as the best goal in Russia.
The heart of the matter
Belgian defender, Vincente Company, is approaching the twilight years of his career. Pavard would be the right man to replace him as he can also be played as a centre-back.
The 31 million euros price tag wouldn't be much for Manchester City to splash on the defender's transfer fee. His abilities and skills justify the fee and the attention he is receiving from the European giants.
On the other hand, FC Barcelona would fight hard to land the defender home. Most likely, it would be Pavard's choice to whether he wants to play in EPL or LaLiga.
Rumour rating/probability: 7/10
Even though, the mentioned source is not reliable enough, but, the interests from City and Barcelona would be very hard to ignore for a top quality player. The player would like to join the European giants. It remains to see which club lures him home.
Video
What's next?
As of now, the defender would continue in Stuttgart. However, City and Barcelona have enough time to prepare better situations and bid for the World Cup star