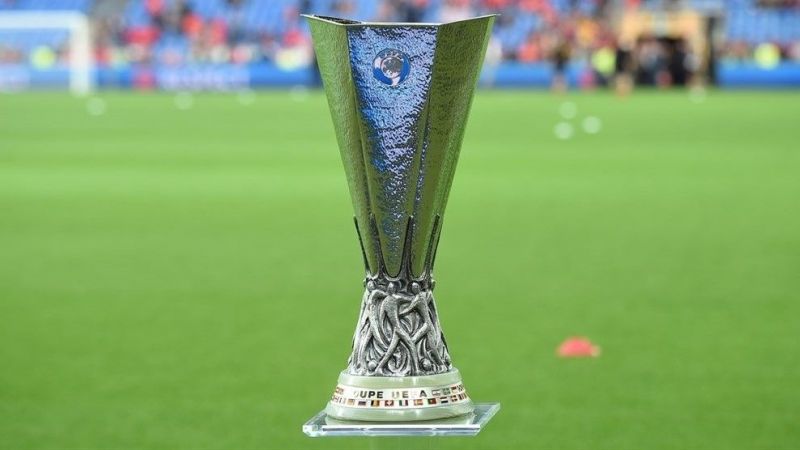 The UEFA Europa League group stage draw took place on August 31, and the field of 48 is set!
Let's get ready for another crazy round of Europa League action. Unlike the Champions League group stage, Europa League has two different sets of group stages to play. First off, this year's Europa League draw features 48 clubs entering the group stage phase.
All 48 clubs were seeded and the balls were drawn to decide placement for the entirety of group stage.
The seeding process can be explained, but I can only hope you go take the time to read up on that yourself. What a procedure it is and there will still be another round of 32 to come after the group stage.
For the 2018/19 Europa League campaign, 48 clubs were split into POTS and there were plenty of conditions this year that made the draw a little difficult. I'll explain some of that along with some other things you should be aware of as well. Let me first hit you with the final Europa League group stage draw and, yes, it goes all the way to Group L!
Group A
Bayer Leverkusen – Zurich – Ludogorets Razgrad – AEK Larnaca
Group B
RB Leipzig – Rosenborg – Red Bull Salzburg – Celtic
Group C
Zenit Saint Petersburg – Bordeaux – Copenhagen – Slavia Prague
Group D
Fenerbahçe – Anderlecht – Dinamo Zagreb – Spartak Trnava
Group E
Arsenal – Sporting CP – Vorskla Poltava – Qarabağ
Group F
AC Milan – Real Betis – F91 Dudelange – Olympiacos
Group G
Villareal – Rangers – Spartak Moscow – Rapid Vienna
Group H
Eintracht Frankfurt – Lazio – Marseille – Apollon Limassol
Group I
Beşiktaş – Malmo FF – Genk – Sarpsborg
Group J
Sevilla – Krasnodar – Standard Liège – Akhisarspor
Group K
Dynamo Kyiv – Astana – Rennes – Jablonec
Group L
Chelsea – BATE Borisov – POAK – MOL Vidi
So there are a handful of things that you need to keep in mind as the Europa League group stage plays out. Five clubs will not be playing their home matches on their normal pitch, or home field if you will.
AEK Larnaca will not be playing their home matches at AEK Arena as they usually do for league play. Instead, they will be hosting their three group A opponents at GSP Stadium in Nicosia, Cyprus.
Qarabağ will be hosting their three group E home matches at Tofiq Bahramov Republican Stadium in Baku, Azerbaijan. Azersun Arena, their usual home pitch, simply cannot hold enough fans with a capacity of 5,800 or so.
F91 Dudelange will be hosting their home matches at Stade Josy Barthel, Luxembourg City. Their Stade Jos Nosbaum can barely hold 3,000 fans, and we all know that the Spaniards, Italians and Greeks certainly like to bring travelling fans.
Group H's Apollon Limassol will also have to shift venues, as they will also be playing at GSP Stadium, Nicosia. Both Larnaca and Limassol will call GSP home for group play, at least. Limassol's Tsirio Stadium holds about half as many fans as GSP Stadium does.
MOL Vidi will be switching over to Groupama Arena in Budapest, moving from their normal Sóstói Stadion in Székesfehérvár, Hungary. Their new home is still under construction and that situation is a bit of mess actually. Hopefully, they can get that venue together for the 2019 campaign.
I have one more update and it regards the match between Marseilles and Frankfurt. The two clubs will open group H play on September 20, but the doors will be closed to the fans.
Also, be aware of the first tie-breaking scenario when clubs finish together in the table. Head-to-head goals scored between the two matches the clubs played in group stage will be the first scenario. The away goals tie-breaker will only factor in if both teams have scored equal goals against each other in group play. (Example: results such as 1 – 1 and 2 – 2 would give the away club who scored two goals the advantage.)
Unlike Champions League, Europa League schedules all of their fixtures to be played on Thursdays. Champions League spreads out their group play over two days, while Europa plays them all at once. The dates for the Europa League group stage are set for September 20, October 4 & 25, November 8 & 29, and finishing on December 13.
The top two clubs from each group will move on to the next round of 32 and that doesn't add up for a reason. Champions League has 8 groups of 4 playing their group stage and all 8 third-place clubs will join the 24 that advance.
Basically what I am saying is that there is going to be a ton of football played in Europe. Between domestic leagues, Europa League, Champions League and club friendlies, the pitch will be a busy place.
Another thing we are going to need is the lines on who is expected to win the Europa League trophy. Two English sides lead the way from the oddsmakers at Bwin, which is usually where I get my lines.
Chelsea top the board to win the title, coming in at +550 (6.50), with Arsenal the closest behind. The Gunners are listed at +900 (10.00), which makes it clear who they think will win this puppy.
Spanish side Sevilla who, if you recall, took 3 Europa League titles in succession recently, is listed at +1200. As you get past the top four clubs listed, everyone really starts to swim together.
Lazio, Leipzig, Leverkusen, AC Milan and Marseille are all mixed in at +2000, give or take a few bucks.
Naturally, we will also be seeing odds to win groups, and odds to advance from groups, plus so much more. AND I MEAN SO MUCH MORE!