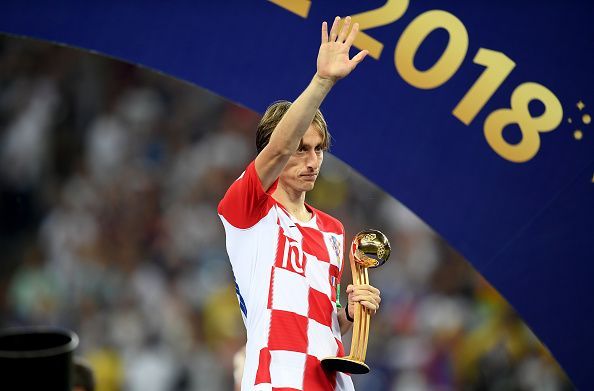 France Football released its list of thirty nominees for the 2018 edition of the prestigious Ballon d'Or award in separate intervals on Monday. 
The award is Europe's highest and oldest honor, and has been presented by France Football every year since 1956.
The winner is voted for by 173 journalists around the world, with one representative per nation, while the list of nominees is compiled by the editorial staff of the French publication.
France Football's thirty-man nominee list includes – Sergio Aguero, Alisson Becker, Gareth Bale, Karim Benzema, Edinson Cavani, Thibaut Courtois, Cristiano Ronaldo, Kevin De Bruyne, Roberto Firmino, Diego Godin, Antoine Griezmann, Eden Hazard, Isco, Harry Kane, N'Golo Kante, Hugo Lloris, Mario Mandzukic, Sadio Mane, Marcelo, Kylian Mbappe, Lionel Messi, Luka Modric, Neymar, Jan Oblak, Paul Pogba, Ivan Rakitic, Sergio Ramos, Mohamed Salah, Luis Suarez, and Raphael Varane.
In the last decade, the award has been a tug of war between Portugal's Cristiano Ronaldo and Argentina's Lionel Messi, but it looks like things are about to change. 
Here, we take a look at the top 3 Ballon d'Or potential winners picked by some of the best in football.
---
#1 Eden Hazard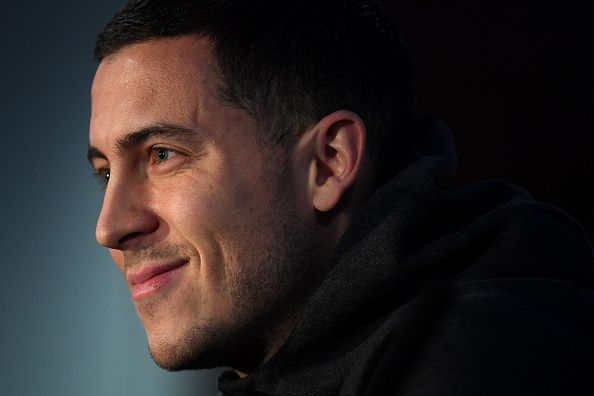 The 27-year-old Chelsea man has tipped Croatia's Luka Modric to win the prestigious individual prize in December, he also dropped his name and that of Raphael Varane.
In a recent interview, Hazard said,
"I don't think I'm going to win it."
"In my opinion, Modric deserves it. There are three to four players. I could say Raphael Varane because he won a lot too"
"I could deserve it too, lets not lie. But seriously, I think that Modric will win it."
"It is going to be a reward for his wonderful season in the Champions League and the final of the World Cup"
#2 Neymar Jr

Neymar Junior

Brazilian superstar Neymar Jr has ruled himself out of the running for this year's Ballon d'Or award.

The Paris Saint-Germain forward came third in the 2015 and 2017 editions of the award.

Neymar has pegged the top three contenders to be his PSG team-mate Kylian Mbappe, Messi, and Ronaldo. 

When asked who he thought would win the award, Neymar told AS,

"I would say, Ronaldo, Messi and Mbappe"

Neymar has recently revealed that his seven-year-old son, Davi Lucca da Silva Santos, is a big fan of his French teammate Mbappe.

"My son loves Mbappe a lot. I took him to training and he was talking about Kylian all the time"

"He wanted to take a picture to show his friends at school, he took it and was very happy", the Brazilian added.

#3 Sergio Ramos

Ramos was recently voted for the ninth time in FIFA's best XI

Real Madrid captain Sergio Ramos has had his pick on the top three players who deserve the prestigious award.

The defender picked Barcelona's Lionel Messi, former Real Madrid teammate Cristiano Ronaldo, and Luka Modric as his top three contenders.

Speaking of the award, Ramos said,

"Looking at the level of the players, you could give the Ballon d'Or to Messi, Cris or Luka, all of them would be just winners"

"When it was given to Messi it could also have been given to Andres Iniesta or Xavi and so I would give it to Modric"

Ramos was recently voted for the ninth time in FIFA's best XI equaling Andres Iniesta as the Spanish player who has achieved the feat the most times.

Speaking of the achievement, he said,

"This is my ninth award and it is a privilege to equal Iniesta. We are the Spaniards who have won it most, it is an award for effort and it is worth fighting for"

#4 Paul Pogba

He insisted that it should go to one of his international teammates

The Manchester United man has admitted that he does not deserve the award and echoed the sentiments of his France teammate Antoine Griezmann when he insisted that it should go to one of his international teammates after France lifted the 2018 FIFA World Cup in Russia.

Speaking to AFP, he said,

"Whether it's Grizou (Antoine Griezmann), Kylian (Mbappe) or Raph (Raphael Varane), they deserve it much more than me"

"I cannot designate one. But I hope with all my heart that it will be one of the three"

"One of the four, actually, because there is NG (N'Golo Kante). That's all I hope for anyway, because there are many who deserve it. I do not put myself in"

Speaking of the award, Griezmann famously said,

"We are world champions, we're part of the best team in the world"

"In this best team in the world, there must be the best player in the world, right?"

"In any case, that's what I think. Afterwards, there are votes, opinions, different judgements"

"But I think that a Frenchman must win the Ballon d'Or this year"

#5 Kylian Mbappe

Kylian M'bappe has completely snubbed Argentine ace Lionel Messi

The young Frenchman had his pick on the top four contenders for football's top award back in July.

Kylian M'bappe has completely snubbed Argentine ace Lionel Messi to pick Paris Saint-Germain teammate Neymar, Juventus man Cristiano Ronaldo, Luka Modric, and Raphael Varane as his top four.

Speaking to France Football, the Frenchman also added his own name to complete the top five,

"To complete, I think I would put myself too"

Thursday saw France taking on Iceland in a friendly game which saw Kylian Mbappe scoring twice to save his side from a defeat to Iceland. The game ended at 2-2 at the Stade de Roudourou.

With the goals, the youngster became the first player to reach the 10 goal mark for Les Bleus before turning 20.

The Frenchman has even surpassed aces Lionel Messi and Cristiano Ronaldo in the number of international goals scored at his age.