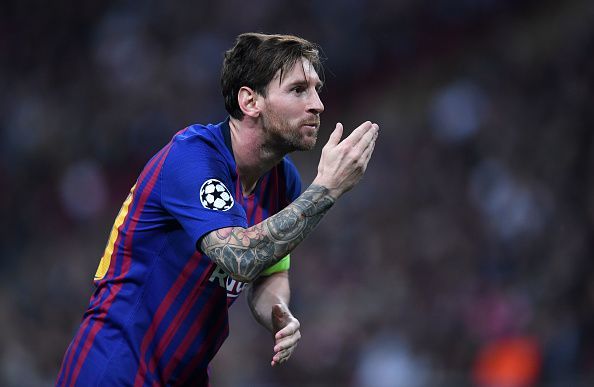 What's the rumour?
Barcelona are reportedly set to offer Argentine ace, Lionel Messi a new club contract as his surprise free exit clause inches closer.
According to Mundo Deporvito, the Barcelona forward has a special clause in his contract that enables him to leave the Liga club on a free transfer in just 18 months. The clause, however, only allows the forward to leave to a non-elite club.
In case you didn't know…
The reports come amid rumors of Manchester City's attempt to sign the Argentine on a staggering deal that would have been worth more than £1 million per week.
The reports added that City boss Pep Guardiola was involved in persuading Messi to join the Premier League side.
Speaking of Messi recently, Guardiola said, "Messi? He is a good buy, a competitive animal that helps others be more competitive. He hates losing and plays like when he was a kid. In big events, if the team helps him he makes the difference."
According to Spanish outlet AS, Manchester City president Khaldoon al Mubarak had said, "We asked [Pep] Guardiola to talk to him. We offered him triple the salary he has at Barcelona, but he never accepted it."
The Premier League champions have since denied reports of any such offer made to Messi.
The heart of the matter
Messi's contract clause and reports of City's interest have prompted the Blaugrana to get back to drawing up a new contract for their star man.
The five-time Ballon d'Or winner signed a contract extension at Barcelona last year, keeping him at the club until 2021.
Messi currently has a $1.1 billion release clause and his present contract runs until the end of the 2020/21 campaign. 
However, if Messi extends his contract with Barcelona, he will sign on until June 2023. The plan is to offer the new deal after next summer so that the Argentine can hang up his boots at the club.
Rumor rating: 6/10
Mundo Deportivo are quite reliable when it comes to the world of La Liga. It is unlikely Barcelona will allow the best player in the history of their club to leave without at least tempting him with a new, lucrative short-term deal.
What's next?
The Argentine forward has indicated that he wants to stay in Spain until he can no longer compete at the highest level.
Whether he makes use of the contract clause for a surprise move is yet to be seen.