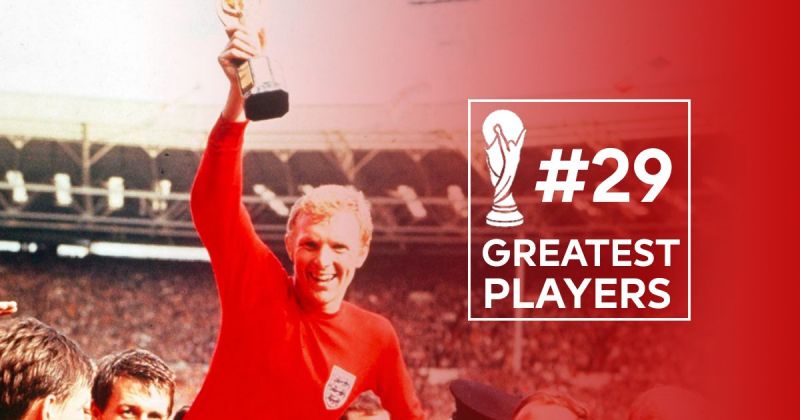 Bobby Moore was widely recognised as one of the greatest defenders and led England to their only World Cup win in 1966.
Born in Essex in 1941, Robert Frederick Chelsea Moore – or Bobby Moore, as he was better known – was widely recognised as one of England's and West Ham's greatest ever players, and famously captained them to lift the 1966 World Cup in their own backyard – their first and only tale of global triumph.
Moore joined West Ham United in 1956 at the tender age of 15 and soon broke into the first-team, making his debut in 1958 against Manchester United to begin what eventually turned out to be one of the most glorious careers the sport has witnessed.
The English centre-back then went on to represent the Hammers for 16 long years, making 644 appearances across all competitions, winning the 1963/64 FA Cup and the 1964/65 UEFA Cup Winners' Cup. Further, he also captained West Ham for over a decade, thereby becoming one of their most decorated players ever.
A slow but expert defender, Moore's reading of the game was almost unparalleled and allowed him to negate his lack of pace. Unlike most other defenders, Moore relied on positioning and his reading of the game to avoid making hard tackles to win the ball back.
Such was his significance on the pitch and influence on the game, that legendary Brazilian footballer, Pele, when asked who the toughest defender he ever faced was, said:
"I met a lot of good defenders I played against. The difference was I played all over the world. Every place I played not with my team Santos or with Brazil, always I have one player to follow me and to stay with me. Then it was not easy because I get excellent players all over the world … but I think I can mention two in the whole of my career.
I can mention Beckenbauer who used to play for Germany and Bobby Moore when we played against England. I think those two players. Different style because Beckenbauer used to play more to control the game but man to man, the best was Bobby Moore. No doubt."
For England, Moore was first called up to the English U-23 squad in 1960 before making his debut for the senior side in 1962. Just a year later, as a result of an injury to regular captain, Jimmy Armfield, he was handed captaincy of the side for the game against Czechoslovakia at the age of just 22, becoming the youngest player ever to captain England.
Later in 1964, he was made the permanent captain of the English national side while also going on to lift the FA Cup with West Ham, capping off an exceptional year.
On the international level, Bobby Moore captained England to the 1966 World Cup in what has turned out to be the country's only successful campaign in the grand quadrennial event.
The 1966 World Cup
What's most fascinating about the tale, though, is the fact that Bobby Moore came so very close to not even being a part of the tournament.
In early 1966, just months before the World Cup, Moore found himself embroiled in an ugly stand-off with West Ham, having allowed his contract at the club to expire while simultaneously hesitating to sign a new one.
However, the rules dictated that a player must belong to a club in order to represent his nation at the World Cup, which forced England's then manager Sir Alf Ramsey to put Moore in a room with West Ham's manager Ron Greenwood in a bid to get the duo to resolve lingering issues.
Subsequently, Moore re-signed with West Ham, giving himself the opportunity to not just play in the World Cup, but to also captain England in their greatest ever international run.
Grouped alongside Uruguay, Mexico, and France, hosts England first played out an intense 0-0 stalemate with Uruguay before beating the Mexicans and the French 2-0 and 2-0 respectively to finish atop Group 1 in the group stages.
In the quarter-finals, they took on Argentina in front of a 90,000+ strong audience at Wembley, with both sides looking like strong contenders to proceed. At the end of a well-fought match, Moore's English side emerged triumphant, knocking out the Argentinians.
The semi-final clash saw England take on a Portugal side bolstered by the form their striker, Eusebio, was in. With all eyes on the Eusebio vs Bobby Charlton epic, Moore played an immensely crucial role as he dropped deep to provide cover in order to nullify the Portuguese talisman's threat.
Notably, Eusebio and Portugal managed to create very little in that game and eventually bowed out after a 2-1 result sent England to the finals where they were to face West Germany in the final.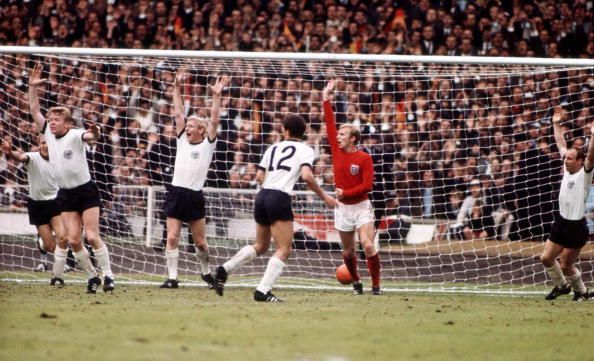 In the final, Moore and co were quickly pushed onto the back foot as West Germany opened the scoring as early as the 12th minute, as Helmut Haller took advantage of a rare misunderstanding between the English players.
As luck would have it, despite initially being considered for a spot on the bench, Bobby Moore was ultimately given a spot in the starting 11, and it was him who helped bring England level when his quick free-kick accurately found Geoff Hurst who obliged by finding the back of the net.
Eventually, the game dragged into extra time as normal time ended with the scoreboard displaying a 2-2 result before Hurst scored his second of the night to give England a 3-2 advantage in the 101st minute.
120 minutes up, seconds before the final whistle was blown, Moore found himself in possession of the ball on the edge of his own penalty area. Instead of randomly hooving the ball upfield, Moore managed to locate Hurst (who was over 40 yards away) with a pin-point loong-ball that was soon converted by the striker to give England a 4-2 win, himself a hat-trick, and Bobby Moore his second assist of the night.
England may not have been the best side to have won a World Cup, but Bobby Moore's presence and performance ensured that The Three Lions eventually lifted the Jules Rimet trophy (the former World Cup trophy)
Fittingly, Moore was named as one of the centre-backs in the team of the tournament as a result of his invaluable contributions.
He also went on to represent England in the 1970 World Cup, where they finished as quarter-finalists.
If not for Moore's performance and resulting ability to keep Eusebio and others silent, England may have well been knocked out along the way, and as a result, he makes it to Sportskeeda's list of 50 Greatest World Cup Players.