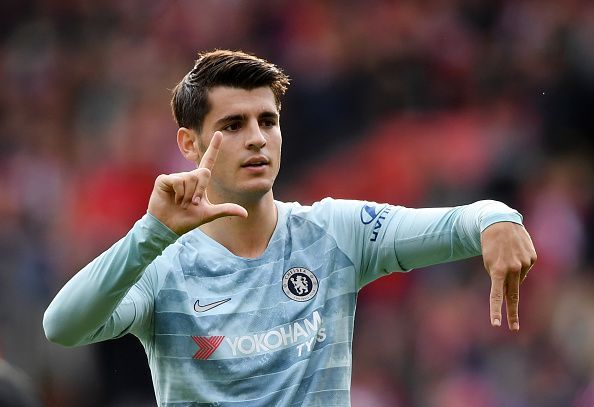 Alvaro Morata has had trouble settling down at Chelsea after joining the club in the summer of 2017 for £60 million amid huge fanfare. After getting off to a good start, Morata struggled subsequently and endured a dismal debut campaign in the Premier League.
The Chelsea striker has now revealed that his struggles in front of goal have affected him off the pitch and has stated that the commercial aspect of the game is draining footballers of their values.
Morata, however, has been showing signs of quality as of late. After scoring against MOL Vidi FC in the Europa League, he kicked on in the same vein and got on the scoresheet against Southampton just 4 days later.
His recent run earned him a call back to the Spanish national squad. Morata was earlier excluded from the Spain squad that went to the World Cup.
In a recent interview for El Mundo (via Football London), Morata got candid about his personal struggles during a difficult campaign in England.
 "I've learned many things from last season. It was very difficult for me. I left home to play the World Cup and I wasn't included in the squad anyway. Now that my two sons are born I can control my emotions a bit better, both the positive and negative ones.
I am happy when I am outside the pitch. I'd like to be happier when I play, I need to score more goals in order to be happier. I was really sad a few months ago. I wasn't depressed but I didn't live my situation very well.
"People used to love me, I scored seven goals in the first seven games at Chelsea. Then I got injured and I was playing even if I was feeling pain. There was lot of tension and I didn't want to speak to anybody. One day my wife told that I wasn't handling the situation in the right way. I was angry because I thought she was against me too."
Morata also said that high remuneration does not translate to happiness. He also spoke about how in the modern footballing world, sponsorship commitments and other distractions are leading to footballers losing their values.
"Footballers have the same problems of common people. Maybe more because sometimes money and fame can be a problem.
"Many people think our life is perfect and that we have privileges, but sometimes money can be a problem. Sometimes even with your family. Of course, money helps but sometimes footballers don't have the right experience to manage the economic side. Sometimes you need to help friends that don't do the right choices.
"Then Instagram, for example, you always have to show yourself smiling, you have to show a fake happiness when you are sad. We are losing our values and only sponsors' contracts count. Sometimes I have a day off and I go out for a beer but most of the times you find yourself surrounded by mobiles of people who want to take a picture with you."
Morata will hope to be in the starting XI as Chelsea take on Manchester United this Saturday at Stamford Bridge.