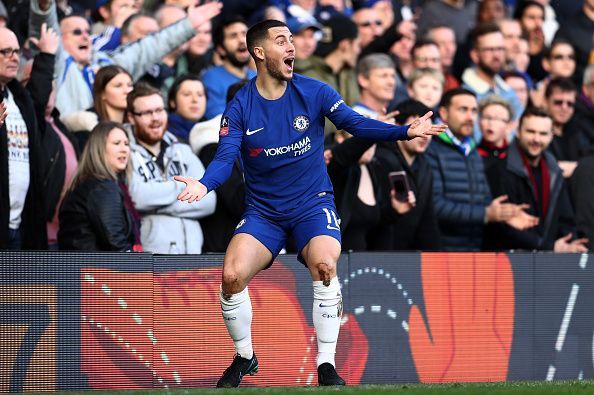 What's the rumour?
Chelsea superstar, Eden Hazard, has been linked with rumours of a move for quite a while now, having repeatedly stated his love and dream to play for a club like Real Madrid. After weeks of speculation, reports emerged claiming that Real had, in fact, cooled their interest in Hazard.
Some reports even claimed that Barcelona were preparing to try and snatch Hazard from under Madrid's noses. However, latest reports claim that Chelsea have reportedly agreed a deal worth £170 million with Real Madrid for Hazard.




Former Madrid manager Zinedine Zidane was Hazard's idol growing up and the Belgian had expressed his desire to play under the French tactician. However, after the World Cup, he also said that irrespective of who the manager is, playing for Real Madrid continues to be a dream.
On the other hand, Madrid have just sold Cristiano Ronaldo to Juventus and have been on the hunt for a potential replacement, and unsurprisingly, they've chosen to reinvest that transfer money towards bringing Hazard to Madrid.
The heart of the matter
Real Madrid had reportedly paid attention to Hazard's public come-get-me and had subsequently placed a £90 + bonuses bid for the Belgian – a bid that was outright rejected by the Blues, according to reports from TodoMercadoWeb (via The Daily Star).
Now, however, Le10 Sport (via The Daily Star) claim that the first agreement of £170 million has been agreed upon by Chelsea and Real Madrid. The report claims that Madrid have already spoken to Hazard's representatives about the player's contract – believed to be worth £13.5m-per-season – and have now begun to negotiate with Chelsea.




Worth the money?
Video:
Rumour reliability/rating: 7/10
After Ronaldo's departure, it was only a matter of time before Madrid went out and signed another Galactico to replace the club legend. Meanwhile, Hazard has also expressed his inclination towards a move to the Bernabeu. Seemingly, it's meant to happen.
Financially, Madrid can afford it and Chelsea can't afford to hold the player against his wishes. With this rumour gathering plenty of momentum over the past few days, it does indeed look like it could soon reach fruition.
What's next?
Chelsea's new manager, Maurizio Sarri, will do everything in his power to retain Eden Hazard. He recently claimed that he would like to have a face-to-face meeting with the Belgian to discuss the situation.
Real Madrid have a habit of getting what they want. Chelsea will have to dig deep if they're to resist Los Blancos.