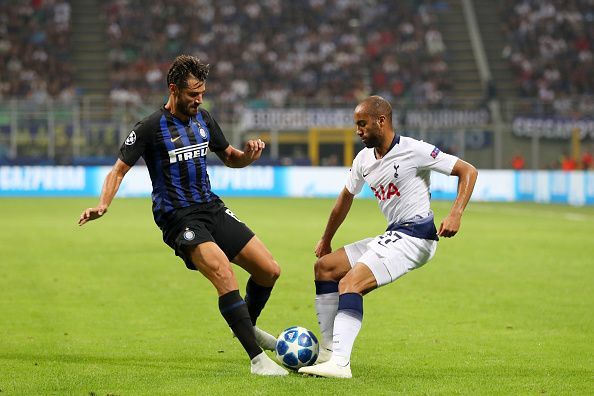 The opening day of the 2018/19 UEFA Champions League saw Tottenham Hotspur go against Inter Milan in a thrilling game.
Mauricio Pochettino's side walked into the game looking for a win to redeem themselves from the two consecutive Premier League losses they faced at the hands of Watford and Liverpool.
Inter Milan, on the other hand, looked for an explosive comeback in their first Champions League game since the 2011/12 season.
The game went in Inter Milan's favour as the side snatched a 2-1 victory over the Premier League side at the San Siro.
Late goals from Mauro Icardi and Matias Vecino condemned the Spurs to their third consecutive defeat so far in this season.
Tottenham's Christian Eriksen opened the bank ten minutes after halftime when a deflected strike went over Inter goalkeeper Samir Handanovic.
Spurs were dominating possession for the entirety of the second half and were looking towards a definite win.
Their hopes were, however, squandered when Inter's Icardi scored a stunning equalizer with just five minutes on the clock.
This was followed by a corner that was converted by match hero Matias Vecino who headed past the goalkeeper at stoppage time to give the team their first victory in the competition.
Prior to the game, Spurs fans were given bad news as Tottenham announced that France goalkeeper Hugo Lloris will miss the game owing to a thigh injury while Dele Alli is recovering from a hamstring strain. Defenders Kieran Trippier and Toby Alderweireld had also been left out of the starting XI despite being fit to play.
Speaking to the press on Monday, Pochettino said, "We still have out Hugo Lloris, Dele Alli and Moussa Sissoko. They are in London. For a technical decision, Kieran Tripper and Toby Alderweireld are there [in London] too."
"It's a technical decision. You can look it up in the dictionary," Pochettino said. "You are clever enough to understand that … I never punish players. The plan is to leave them there and use different players tomorrow. There's nothing in behind it."
Fans have since expressed their outrage at Pochettino and the team on social media: