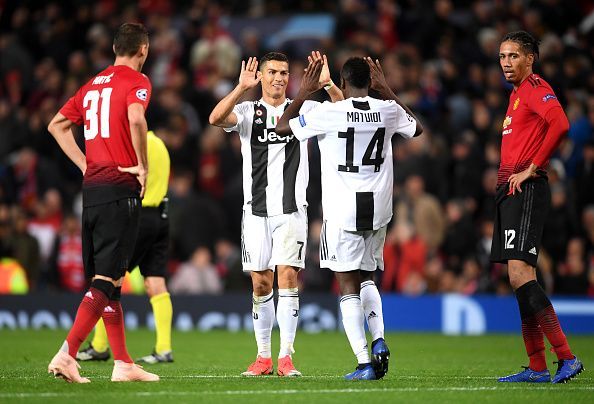 The resumption of Champions League football post international break saw the much-heralded 'return' of Cristiano Ronaldo to Old Trafford as Manchester United played host to Juventus.
Massimiliano Allegri's side had a number of chances to secure a high-margin victory, especially during a dominant first-half display. A Paulo Dybala tap-in barely 20 minutes into the fixture turned out to be the solitary goal of the night, however, with Ronaldo playing the role of creator.
There was to be no comeback for the home side on this occasion once they conceded the lead; previous outings for United in the Premier League led to a win against Newcastle and a draw against Chelsea last weekend from a trailing position.
The win helped Juventus consolidate their lead at the top of their group with 3 wins from as many games while United are in second place with 4 points.
One more win from the three remaining games would see the Italians cruise to the round of 16 stages, leaving Mourinho's men to battle it out with Valencia (and theoretically, Young Boys as well).
Here we take a look at the 3 main factors for the Italians' win on Tuesday night:
---
#3. Midfield three stack-up in perfect display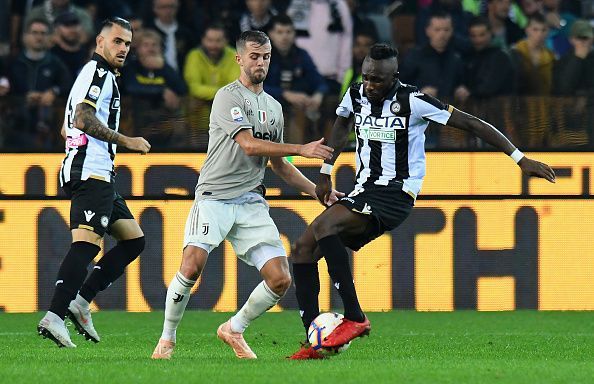 Juventus lined up in a 4-3-3 formation against a 4-2-3-1 employed at United by Mourinho. Miralem Pjanic, Blaise Matuidi and Rodrigo Bentancur in the centre of the park proved to be more than an adequate match for a double pivot of Paul Pogba and Nemanja Matic for the home side.
Juan Mata was tasked with the job of creating goals for the United forwards from slightly ahead in midfield, but the hosts barely saw the ball for large parts of the game.
When they did, a midfield loaded by the Italians was extremely difficult for the hosts to bypass, and supply to the United frontline was stifled well. Mourinho's men were always hurdled in possession and ran into someone in black and white stripes.
Additionally, a fluid front 3 for the visitors meant that Ronaldo, Cuadrado and Dybala not only interchanged positions constantly but also took turns dropping down to midfield to collect the ball, meaning more bodies for the hosts to deal with.
This midfield battle proved to be a crucial tactical aspect of the night as small margins clinched all three points for Allegri and co.
#2. An utterly dominant first half; Dybala steals the spotlight, Ronaldo threatens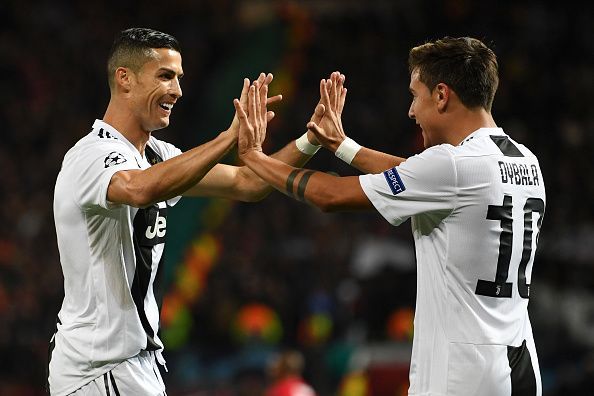 The first five minutes or so of the game had seen United make a somewhat bright start but thereafter, the entire half belonged to the visitors who were dominant both in and out of possession.
Mourinho's men had less than a third of possession at the break, not that they managed to do much with any of it. Juventus on the other hand, constantly exerted pressure on the United backline – testing, running, crossing, shooting.
Paulo Dybala weaved and danced through the United defensive setup almost as if they were pawns without any ability to move around. The Argentine forward was lively throughout a terrific first half, sealing the deal with a goal in the 18th minute.
Ronaldo's cross from the right was met by Cuadrado but his shot was dealt with by Smalling, only not adequately enough. The England defender's clearance fell to Dybala, who pounced on the ball and made no mistake from just a few yards out.
Dybala came close a couple of times later on as well, shooting slightly wide once and over the bar on the other occasion. Ronaldo threatened United with a scorching curler which was superbly saved by David de Gea.
Constantly linking up with an efficient midfield while also remaining fluid across the frontline, Juventus asserted their strength and superiority which United could not match up to for the entirety of the first 45 minutes.
Mourinho's side tried to be different and make a match of it in the second half but the Italians' European experience and defensive resilience proved to be too hot to handle, which brings us to the top factor for tonight's win.
#1. Neutralized United with a world-class defensive showing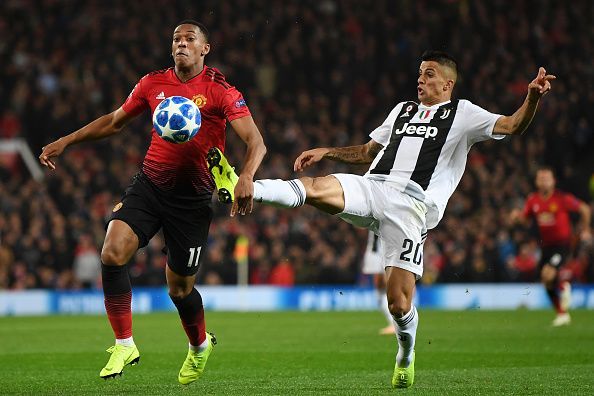 Juventus – and Italian sides in general – have had a reputation for their superior defence and almost making it seem like an art form. Allegri's men put up one such display on Tuesday night.
João Cancelo was an absolute rock on the right for the visitors – using his intelligence and positioning to counter any swift threats down his side. He was ably matched by the rest of the Juventus back-line as they showcased a calm, collected display in shielding their goal.
Wojciech Szczesny had only one header to collect (with a slight jump) – United's only shot of note on target. The one other occasion when the hosts came to scoring was through Pogba's shot which careened off the post but even then, the keeper was close.
Chiellini and Bonucci marshalled the box but also tried to help in attack, Cancelo neutralized Martial while Alex Sandro did the same with Rashford. Lukaku was bereft of service while Rashford and Martial barely got into threatening positions.
When in possession, United was either forced to give up the ball or intercepted. On the occasions they were awarded a free kick, Juve bodies were lined up to make sure nothing was to come of it. They were undoubtedly aided by a solid midfield and the Italians' defensive masterclass was enough to see out the game despite only having a slender lead. 
Positioning, experience and resilience were enough to counter the threat of the United forwards' pace.