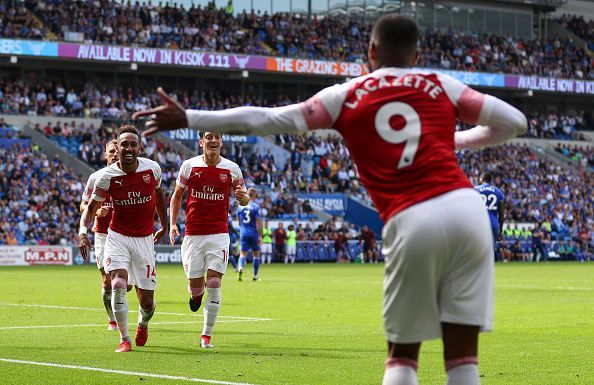 It was a tough-fought victory for the Gunners, as they beat Cardiff City 3-2 away from home. Mustafi, Aubameyang and Lacazette were on the scoresheet for Arsenal, with Xhaka, Lacazette and Torreira with the assists respectively.
Arsenal looked the better side in the second half, as they were held to draw until the first half ceased. It was a great game for the North London side, with plenty of positives to be taken from the game.
However, there are some factors which still haven't been ameliorated by Unai Emery and co', and they need to fix those particular problems in order to remain on the winning side in the upcoming games.
---
#4 Defending set-pieces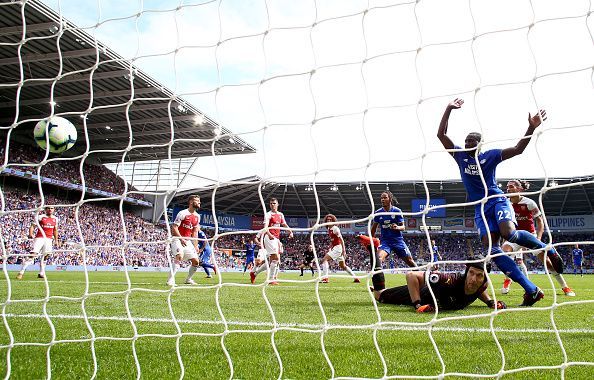 Arsenal is probably the weakest side from the "top 6" when it comes to defending, especially during set-pieces. The London club finds it pretty difficult to understand, react and position themselves, and as a result, they have conceded eight goals in just four league games.
Bellerin and Monreal on the wings are caught up high on the pitch often, and this leaves Arsenal's defence exposed. Mustafi has been giving commendable performances, with Sokratis still trying to adapt to the game.
The centre-back duo has been equally responsible for the vulnerability Arsenal have been facing since the start of Premier League 2018-19.
However, last weekend, the second half against West Ham turned out to be better for Arsenal and they luckily won the game with a two-goal lead.
Yesterday against Cardiff City, they yet again suffered at set-pieces. But the Gunners' attack outperformed that of Cardiff and eventually, three points were taken back to the Emirates.
#3 Need to have more strength on the left wing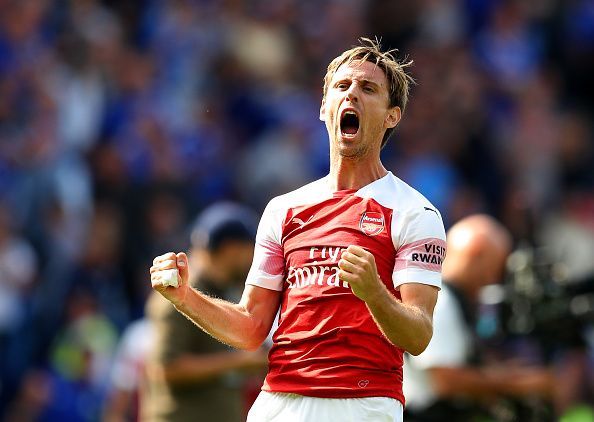 The likes of Ozil and Bellerin on the right wing makes it easy for Arsenal to attack through the right, but there is no support whatsoever for Monreal on the left.
This is mainly because Mkhitaryan doesn't play well alongside Monreal. However, there are rare glimpses of Monreal making a run for a through-ball by Ramsey.
Ozil and Bellerin share a great understanding, and Bellerin's pace helps him get behind the defenders with ease. Monreal needs a better left winger who can provide him with through-balls and track back when Monreal is caught up high on the pitch.
Aubameyang is not a natural winger, but his coordination with Lacazette is appreciable, and that is the reason why Unai played him as a left winger in yesterday's away match against Cardiff City. And the idea paid off, as both Aubameyang and Lacazette got goals with the latter getting an assist as well.
Arsenal's board must be looking for a left-winger in the winter transfer market. Ousmane Dembele and Kingsley Coman were heavily linked to the North London side before the season commenced, but none of the deals materialised.
A quality left winger would be a great addition to the Arsenal squad, but it sure will lessen the chances of Mkhitaryan and Ramsey getting a spot in the starting 11.
#2 Defensive midfield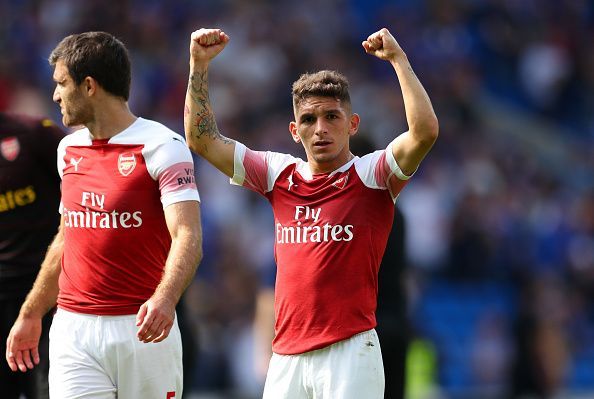 The defensive aspects of Arsenal have been a bit of a concern for more than half a decade, and it still doesn't seem to be solved. Unai Emery looked determined to reshape the defence, and whilst he has made some quality signings for the defence, it is clearly not working. The Gunners have conceded a total of eight goals in just four games, which is a cause for concern.
But the back four are not to be blamed completely, as the problem remains in the midfield. Granit Xhaka has been underperforming since the start of the season, and he wasn't any better last season either.
Matteo Guendouzi has adapted to the fast-paced game quickly, after joining the Arsenal just this season from Ligue 2. His performances have been commendable and he has been doing his job with great determination.
Xhaka, on the other hand, has not been up to the mark. His performances in all four games have been below average, and still, Unai seems to trust on him to take the CDM spot, despite him having a world-class midfielder in the form of Torreira on the bench.
Xhaka is strong, but his slow decision making and inaccurate passes have cost Arsenal plenty of goals. Torreira must be given a start alongside Guendouzi when Arsenal face Newcastle after the international break.
#1 Efficiency in the Final Third (finishing)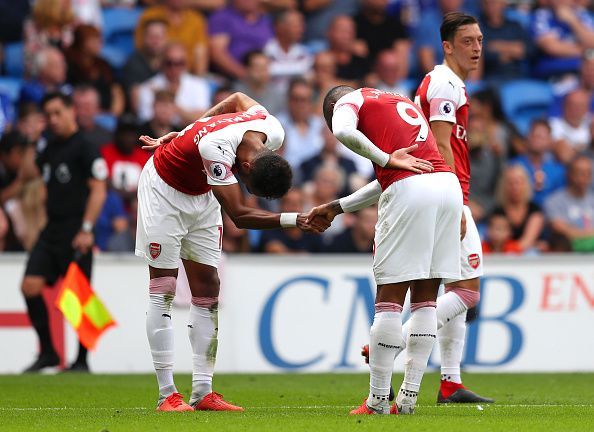 Finally, Aubameyang and Lacazette have started together. The Gooners had been waiting for this since the start of the season and Unai finally went with fans. It didn't backfire though, but Arsenal could have scored plenty more, as they got chances in abundance to make the scoreline more one-sided.
The Auba-Laca duo got themselves goals against Cardiff City yesterday, with Lacazette bagging an assist as well, which led to a classic finish by Aubameyang.
However, Aubameyang opened his account just last weekend, going goalless in the three fixtures since the start of the season, despite starting in all three.
After joining Arsenal in the winter transfer window last season, he bagged 10 goals and 4 assists in just 13 games, just two fewer goals than Hazard (equalling the assist tally) who played the whole season.
Aubameyang is a striker of great calibre, but his starting games this season says otherwise. It may be a problem of integration, but if he continues to not score, I am afraid Arsenal might see themselves finish outside of the top four.
……………….
Do you have what it takes to make cool cash from sports betting, Ok good?
See the best betting website in Nigeria and join them via the link…. bit.ly/2vkx6DE