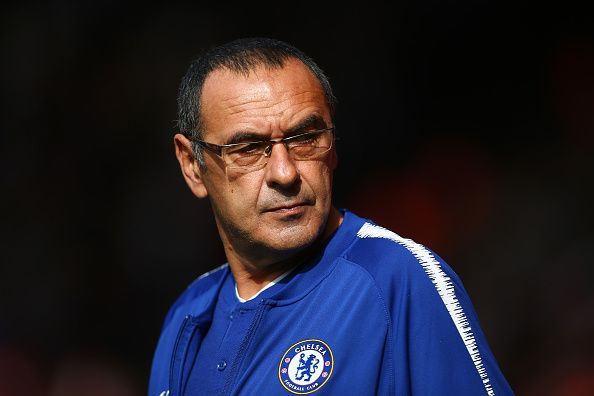 What's the story?
Chelsea manager Maurizio Sarri has named two of his favourites to win the present edition of the UEFA Champions League.
In case you didn't know…
Chelsea missed out on Europe's top competition after finishing at fifth place in the Premier League last season.
Sarri was brought in to Stamford Bridge as the new boss this campaign, replacing Premier League title-winning Antonio Conte.
The Italian boss was previously in charge of Napoli, who finished second in the Serie A last season.
Guardiola and Sarri are mutual admirers of one another with Pep once describing the Italian's Napoli team as one of the toughest he's faced after Manchester City's win over the Serie A club in the group stage of the Champions League last campaign.
The heart of the matter
The Chelsea boss has now given his verdict on who he thinks will win the coveted Champions League title this season.
Speaking of his two favourites, Sarri said, "In Italy, Juventus have no rivals and they are already running away with the league. And this season they can win the Champions League."
"There are two candidates: Juventus and Manchester City. I have always thought that Guardiola's team has matured for the final climb to the top European level. For me, it is a two-horse race."
"Then we have to see how the Spanish are in March. Now they are a bit so-so, but the direction of the wind in the Champions League changes easily."
However, Pep Guardiola has recently downplayed his side's chances of a Champions League win. Speaking about the club's European chances, Pep said on Sunday, "Our great success as a club was the Champions League semi-final, in all our history.
"I don't know whether we are ready, it's the truth, I don't know. We don't have much history behind us, but so much confidence.
"It's not just a matter of coach, players, club and supporters. It's a matter of believing we can and we have to win, and honestly, I don't know whether we have already reached this point."
What's next?
Whether City surprises their manager to win their first Champions League trophy is yet to be seen.