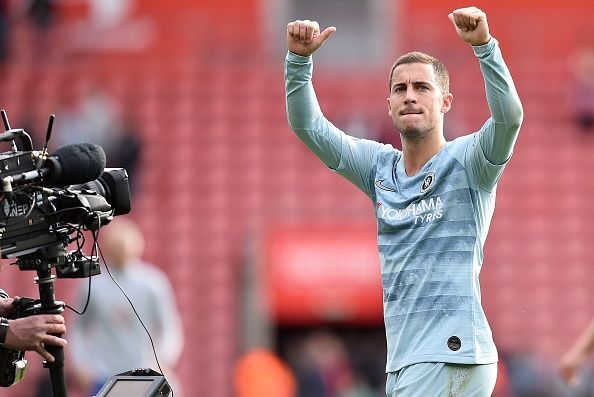 What's the story?
Ever since Cristiano Ronaldo completed a move from Real Madrid to Juventus earlier this summer, Madrid have been linked with and on the lookout for potential replacements. Chelsea's Eden Hazard, who has been in outrageous form this season, was touted to be one of Madrid's top targets.
Despite publicly admitting his desire to play for Madrid, Hazard refused to force a move through and ultimately, no move materialised. However, Hazard has been continuously been linked with Madrid even after the transfer window closed, prompting many to believe that it would just be a matter of time before Hazard eventually moves to Madrid.
Hazard is currently on Belgium duty at the UEFA Nations League. According to reports from Goal, Speaking to reporters in a press conference, he ruled out the possibility of a January move to Madrid, temporarily reducing speculation.
In case you didn't know…
The Belgian forward has been in sensational form this season, scoring 8 goals and assisting 3 more in 10 matches across all competitions. While several are calling him the best player in the Premier League at the moment, others are calling him the best in the world, based on current form.
Hazard's contract at Chelsea expires in 2020 and the Belgian is yet to sign a new deal, despite multiple attempts from Chelsea to tie the mercurial forward down to a new contract.
The heart of the matter
At the press conference, Hazard was cheekily asked if he needed to play in Spain to win the Ballon d'Or. In response, Hazard said "That's why I want to go, maybe," with a mischievous glint in his eye.
When pressed further on the possibility of a January move, Hazard said
"Chelsea were clear with me [in the summer]. I couldn't leave the club. I accepted it. Anyway… leaving or staying, I was going to be happy. I do not regret this decision at all.
"When decisions are made [that you may not like] you can sulk and often you get the last word. But I will never look to clash with the club. Chelsea have given me a lot. I left Lille on good terms and I want to do the same thing here.
He then spoke directly about a widely speculated January move, nipping it in the bud with a resolute answer:
"A transfer in January? It's not possible."
However, this will only pacify the rumour mills until the end of the season, with his long-term future still undecided.
Video: Eden Hazard is in the form of his life
What's next?
With Gareth Bale struggling for consistent fitness and form, there is little doubt that Real Madrid will have to invest in a Galactico or two. Hazard would undeniably be one of the best possible alternatives and it will also allow the player to achieve his long-term dream of playing for Los Blancos.
Chelsea will do everything in their power to retain Hazard for as long as possible, but not many teams have been known to fight off Real Madrid and stop them from getting a player they desperately desire.