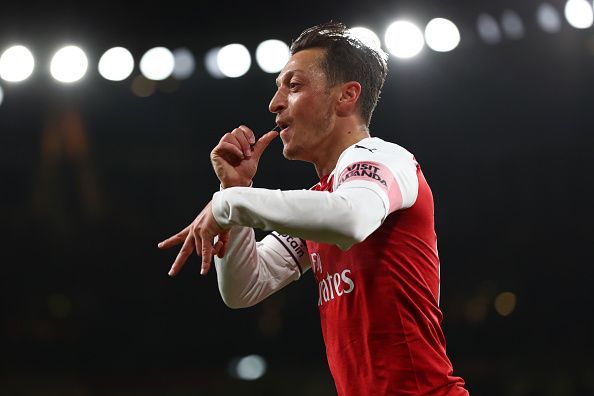 Mesut Ozil was on fire last night. Entrusted with the captain's armband, the Gunners' main man looked at home and ready to slaughter the unfortunate visitors. Once he grew into the game, Ozil turned on the style and helped Arsenal play some scintillating football on their home turf.
After going down by a goal, the German led Arsenal's comeback and started and finished off a counter with the sweetest of touches. He followed it up with a spectacular defence-splitting pass that freed up Bellerin on the right side of the area. From there, the Spaniard passed it aside to Aubameyang who tapped it in.
Subsequently, Arsenal scored their best goal of the night and it was once again all Mesut Ozil. After helping Arsenal pick up some pace and momentum on the counter with a delectable heel flick, Ozil raced to the final third where he feigned to leave the ball for Lacazette who would feed it back to the German. Ozil would then gently lift the ball over Schmeichel and into the feet of Aubameyang who won't score easier goals in his career.
Just when you thought Arsenal, Unai Emery and Mesut Ozil were going to be serenaded by the press for an absolutely delightful show, in comes Graeme Sourness with his crabby tics.
Offering his punditry on Monday Night Football (via Football London), Souness said,
"He does polarise opinion. When Arsenal are not dominating games and not on the front foot he's absent.
"The big players on the big money that come for big transfer fees, with the utmost respect to Leicester, these are not the games you want to be judging them on, it's when they play in the Champions League later stages or the games against rivals for Champions League spots and the Premier League and the title, the big games that really matter, where the big players are generally the ones that make the difference to win you those games and I don't think in his career that he's done that enough times.
"It can work one of two ways if you're given the captaincy: you can rise to the occasion or it can be a burden for you.
"He rose to it, he relished it, and I want to say nice things about him because he's a fabulous player, but I want him to do it in the big games, I want him to turn up and be the difference when they play Man United, or Liverpool, or Man City, or Tottenham, that's when I want to see Ozil, because you know he's got that ability."
If you've been following Souness' habitual attacks on Paul Pogba, you won't find this the least bit surprising. Souness does really need to cheer up and maybe become a glass-half-full kind of person?